FIA summons ten politicians in MQM founder's money laundering probe
ISLAMABAD (Monitoring Desk): Federal Investigation Agency (FIA) has summoned Dr Sagheer among ten senior members of Muttahida Qaumi Movement (MQM) in a notification issued on Monday in what comes as an important development in money laundering probe against MQM founder.
MQM founder who has been living in self-imposed exile in London since 1992 is facing a money laundering probe which at a time was pursued by multiple security departments including Scotland Yard of Britain.
Dr Sagheer has been summoned by the authority to appear at 11:00am on February 15, 2018 at Counter Terrorism Wing/FIA Headquarters in the federal capital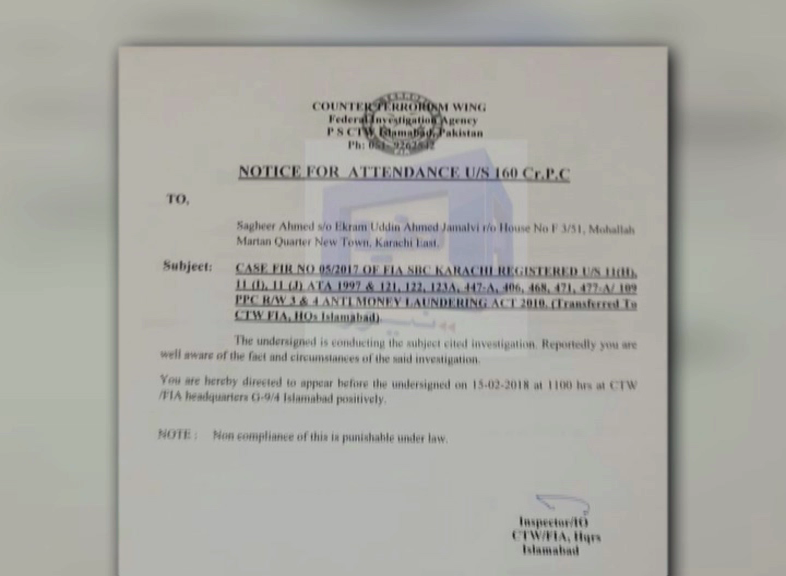 A copy of the notification issued by FIA today
The inspector in the case has warned the leaders of punishment in accordance with the law in case of non-compliance with the order.
Muhammad Shahid, Muhammad Zubair, Muhammad Tahir, Rauf Mughal, Manzoor Ahmed, Muhammad Irfan, Rafeeq Rajput, Kamal Siddique and Kaiful Warra are the other members who have been summoned.
The British investigative agency had dropped money laundering probe against MQM founder in October 2016 however, the case continues with FIA.
According to a notification issued today, the agency has summoned ten leaders of the political organisation which is chased by allegations of illegal foreign funding and covert support of anti-Pakistan forces including Research and Analysis Wing (RAW) of India.
The notification reads that Dr Sagheer among ten MQM members are summoned to appear before FIA team and answer questions concerning MQM founder and his assets.
He was arrested by Scotland Yard in June 2014 and was released in the days that followed, not unlike the nabbing and interrogations after that.