Kristin Vukovic
Renowned for its premium truffles, olive oil and wine, Istria – the largest peninsula in the Adriatic Sea, located in north-west Croatia – has a strong Italian influence and is known for its gastronomy.
Croatian cuisine varies greatly by region, but every part of Croatia has a dish served "na žlicu" – meaning "on the spoon". In Istria, it's maneštra, a thick and hearty bean-based soup that uses seasonal ingredients to make a healthy, uncomplicated lunch.
[jump to recipe]
Maneštra is often served for marenda, a light, affordable meal eaten between breakfast and lunch. During marenda – a ritual as important for Croatians as teatime is for Brits – workers across Istria take a break, usually around 10:00 or 11:00, and during this sacrosanct time, nothing much gets done. Historically, farmers would take the opportunity to sit together and eat a calorific meal made by the mother of the house so they could have the energy to finish a long, intense day labouring on their lands.
Now, some chefs are going back to basics and focussing on the bounty of the land. A recently opened restaurant from the Croatian American Penavić family (who also own nearby Stanzia Baracija and Clai Winery) is elevating the peninsula's local cuisine. Restaurant Stara Škola ("Old School"), housed in a renovated old elementary school in the Istrian village of Krasica, is introducing diners to local ingredients used in surprising ways. But the restaurant also stays true to the region's roots with homestyle dishes like maneštra, a staff favourite that will be on the menu during spring and summer 2023.
At Restaurant Stara Škola, Swiss-born, Canadian-raised chef Priska Thuring has introduced a five-course menu based on seasonal Istrian ingredients. Thuring has 24 years of experience as a chef and has worked in prestigious hotels, resorts and restaurants in Switzerland, Canada, England, Germany and Croatia (Dubrovnik, Rovinj and Zagreb). Her personal life initially brought her to Croatia, and she recently put down roots in Istria, which she describes as "a small Tuscany" that is still unspoilt.
"My whole life, I've been searching for a place," Thuring said. "The one place I felt at home was Istria."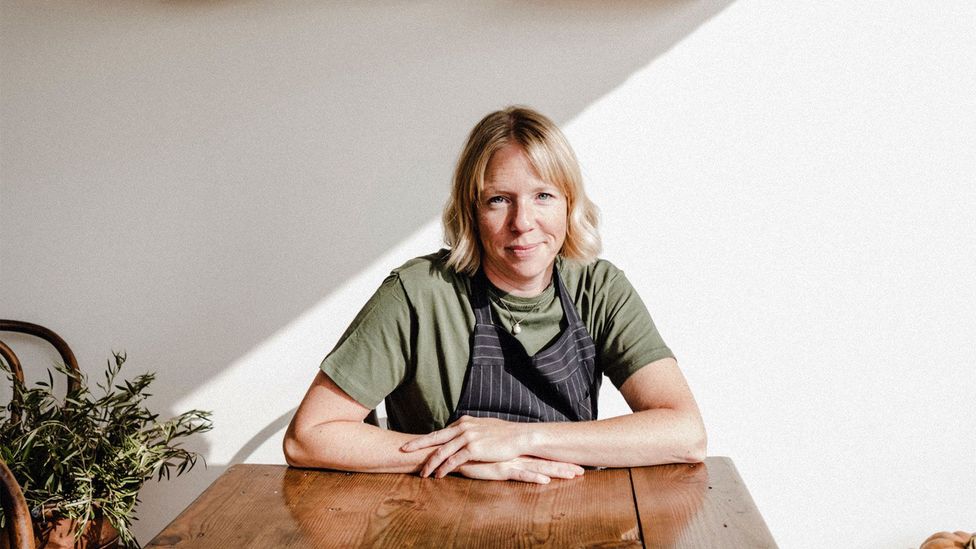 Priska Thuring has introduced a five-course menu based on seasonal Istrian ingredients at Stara Škola (Credit: Studio Partum)
Maneštra is one of her favourite Istrian dishes. The soup usually has a base of beans, potato and sour cabbage; variations can include chickpeas, young corn, wild fennel, barley, lentils, split peas, sour turnips (fermented turnips), prosciutto bone or dried pork tongue. "You can add any vegetable you like – usually the sad looking ones in the back of your fridge that you have forgotten about, you will not go wrong, depending on the season and what you need to use up," Thuring said.
This low-waste ethos runs through the restaurant, from dishes that utilise the entire ingredient ("from head to tail") to composting. In Thuring's five-course menu, ingredients are repeated in courses – the white part of a leek might be used in one course, and the green part used to make an oil for another course. She prioritises fresh, local ingredients; some might look slightly misshapen for one purpose but work perfectly for another, which forces her to get creative with whatever produce comes in.
Just prior to the restaurant's opening, she accepted peppers from a farmer to help him use them up because no other restaurant would use them for plating. Her team experimented by fermenting the peppers with cabbage, and ultimately decided to make a mild green kimchi with them.
Sourcing locally grown and raised ingredients is becoming increasingly difficult because managing a small farm is hard work and takes a lot of time, and fewer people want to do this type of work for lower pay, Thuring explained. "The whole [restaurant] concept is based on the product, so you have to get to know the people," she said, emphasising that she seeks to elevate newer and established local producers in addition to well-known Istrian brands. Eventually, she hopes to grow and produce many of the ingredients in their garden so the restaurant will be close to self-sustaining in the next decade.
Istrians, like Italians, love to eat, and sitting down to share a meal is an important part of the culture. When Thuring came to Istria, she learned about marenda and the importance of slowing down and taking a break to enjoy a staff meal. "To sit down and eat, that is an important thing."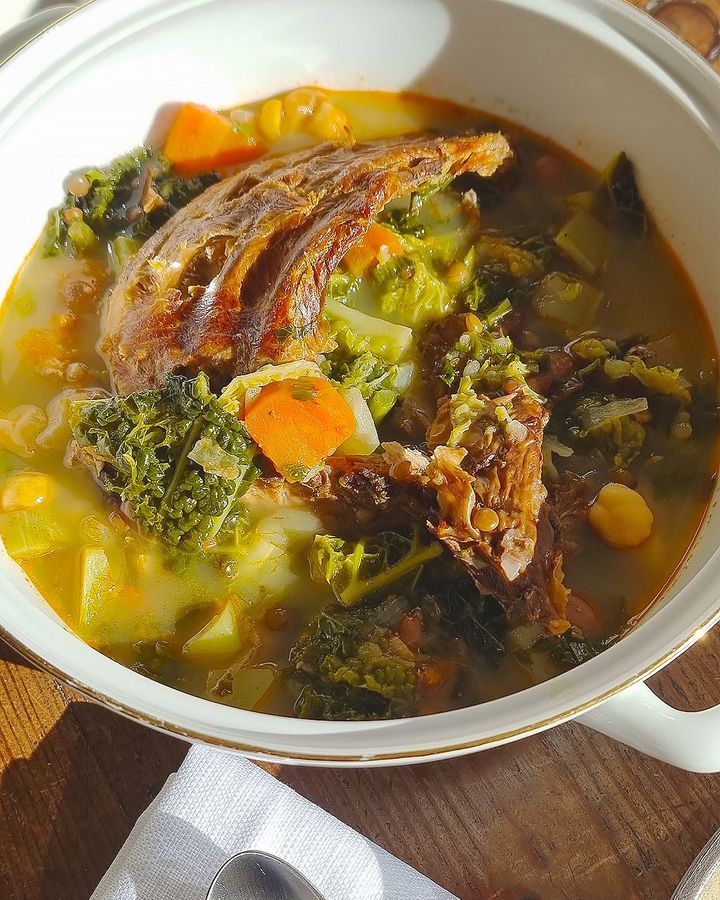 Maneštra usually has a base of beans, potato and sour cabbage (Credit: Stara Škola)
Maneštra recipe
By Priska Thuring
Serves 4
"You can use any bean you like; as the beans cook, they thicken up the whole soup," Thuring said.
Method
Step 1
In separate bowls, soak the dried beans, chickpeas and lentils overnight.
Step 2
The next day, drain the beans, chickpeas and lentils. Fill a large pot with 4 litres of water. Add the beans and chickpeas to the pot along with the bay leaf (and pork bones, if using). Bring to a boil.
Step 3
After about 15 minutes, add the lentils, carrots, celeriac, turnip, leek, onion and garlic. Season with salt and pepper. Simmer uncovered until the beans, chickpeas and lentils are tender and soft.
Step 4
Once the beans, chickpeas and lentils are fully cooked, add the kale and cabbages and cook for another 10 minutes. Check for seasoning and serve.
Tip:
Most of the employees in Stara Škola love spicy maneštra, so they add fresh chillies or homemade hot sauce and serve it with freshly baked bread.
Courtesy: BBC