Holly O'Neill
Rossi's Ices, Weymouth
Since 1937, four generations of the Figliolini family have scooped their handmade ice-cream on the seafront, from April to October. There's no vanilla here – they let the taste of the cooked milk shine. On the menu are cones, melbas and knickerbocker glories, plus a range of ice-cream cakes that can be made with any seasonal flavours.
#1 flavour "Natural," says Aimee Figliolini (who likes the new vegan coffee), "some of our customers have never tried our other flavours."
Jack's Gelato, Cambridge
Jack van Praag's restless ice-cream menu changes daily and must be one of the UK's most creative. Its list of past flavours runs into the hundreds, yuzu and beet sorbet being a current favourite and pistachio cookie dough the most requested. Van Praag is also open to suggestions for new flavours from customers. An online shop with UK delivery is planned for early autumn.
#1 flavour Dark chocolate, the menu's only constant.
Farro Bakery, Bristol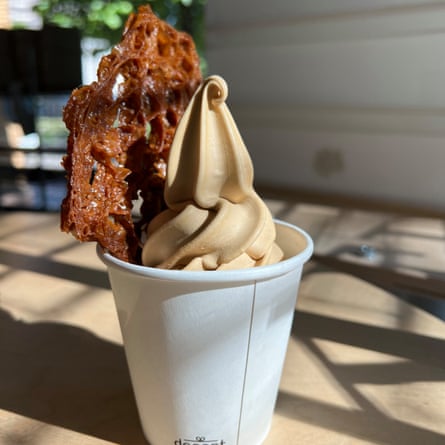 The cult bakery's Carpigiani soft-serve machine is in action for a second year, from May until the end of August, swirling a new flavour each month into their own einkorn and honey waffle cones. It's topped with their version of an ice-cream wafer: a thin slice of pain au chocolat, dipped in a mix of honey and cream, then baked until caramelised and crisp. This month's flavour is Hereford blackcurrants with Bruton Dairy clotted cream. Next up, a return for 2022's panela [unrefined cane sugar] and vanilla.
#1 flavour Staff love the panela and vanilla in an affogato: "The preferred way to consume coffee in a hot bakery," says founder Bradley Tapp.
The Reader Ice Cream Parlour, Liverpool
The profits from every cone sold here goes to The Reader, a charity dedicated to literature and reading aloud. Cones start at £3.50 for a standard size, and there are half scoops for small children, and even dog ice-cream for furry friends. There are always 24 flavours on offer, all from Cheshire Farm Ice Cream. The range might include ever-modish salted caramel or retro bubblegum, and there's at least one monthly 'secret' or guest flavour.
#1 flavour Chocolate: "Good to know the original flavours still have it," says head of site operations Nicola Williams.
Morelli, various locations, Northern Ireland
Brainchild of MD Arnaldo Morelli, this parlour's caramelised hazelnut flavour bagged three gold Great Taste Awards in 2021, while the double-cream vanilla won the business, based on the Causeway Coast, a National Champion award from the National Ice Cream Competition in 2019/20. The Portrush branch has 24 flavours which change with the season – look out for the Irish black butter, made with Armagh apples and a blend of spices – and all of them are known for their 321 sundaes (3 scoops, 2 toppings, 1 sauce).
#1 flavour Double-cream vanilla, made with Irish butter and, surprise, double cream.
Colpi, Glasgow
Classics such as mint choc-chip and raspberry ripple still do well at this Milngavie shop, which churns Loch Lomond milk into ice-cream daily, but newer flavours such as turkish delight are also having their moment. (Chefs created a rose gelato with a chocolate stracciatella ripple, topped with pieces of the sweet.) Alongside innovative flavours, Colpi retains the accoutrements of the traditional parlour; one of the most popular orders is the single nougat – a mallow-filled, chocolate-dipped wafer sandwich.
#1 flavour Pure Colpi – a traditional fior di latte, made to the same recipe for nearly 100 years.
Darlish Ice Cream, various locations, London and Hertfordshire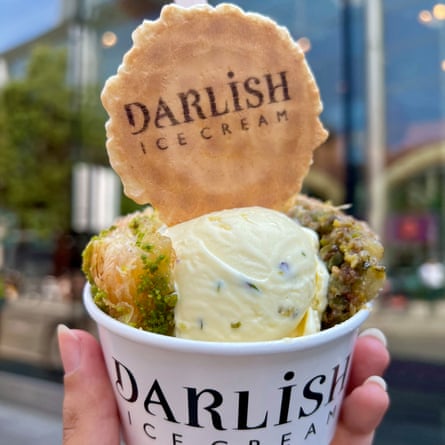 This parlour started when Laura Dawson, who has an Anglo-Indian mother and an Iranian father, became obsessed with exploring traditional Persian ice-cream flavours, made in the English ice-cream style. Now, five sites feature flavours such as black tahin, Turkish coffee and (new) carrot milk. They wanted to do a baklava flavour but it proved elusive – the pastry would go soggy and the flavours were muted. In a moment of inspiration, they squidged a scoop of ice cream into a wedge of pistachio baklava – now it's the signature product.
#1 flavour Saffron, rose and pistachio – the ice-cream that started it all.
Moomaid of Zennor, various locations, Cornwall
Made with milk from the family farm, Moomaid ice-cream can be found around Cornwall. The espresso martini flavour is a favourite due to the decent kick of booze; ice-cream sandwiches, using homemade cookies, are new to the menu and kids will delight in a monkey cone. This being Cornwall, of course cones can be topped with a splodge of clotted cream. Signs around the St Ives branch urging seagull vigilance should be heeded: your monkey cone may soon be airborne.
#1 flavour Shipwreck: sea-salt ice-cream with dulce de leche and honeycomb.
Salcombe Dairy, Salcombe, and various locations in Devon
A pioneer of farm-to-plate (farm-to-cone!) before it was a marketing buzz phrase, this dairy has been making 'slow' ice-cream, using milk from local farms, since 1979. They're also flavour pioneers: reportedly the first in the UK to have rippled honeycomb through ice-cream in the New Zealand 'hokey pokey' style; while this season's freshest flavour is cucumber sorbet with a hint of lime (top tip from the team: add it to a glass of Pimm's). All their ice-creams are nut-, gluten- and egg-free, and can be found at their four sites around Devon, or ordered for home delivery in satisfyingly large 2-litre tubs.
#1 flavour Honeycomb – award-winning, crunchy-gooey, their signature.
Fire & Ice, Narberth
This craft bottle shop in Wales has a second reputation for quality gelato – in fact, the shop actually began life as a sorbet… Owner Ivan Wilson made an ice with Welsh cider but due to the alcohol content needed a licence to sell it: "The licence then meant I could also sell the cider that was used in the recipe." Since 2011, quality ingredients and an experimental palate have led the R&D at F&I; there's plenty of inspiration taken from the retail shelves (eg rum, ginger beer and lime sorbet), and Ivan prefers a less-sweet product, so delves into the science of ice-cream to bring flavour to the fore without losing textural integrity. This summer, look out for a mango and lime sorbet rippled with scotch-bonnet chilli jam, and the return of their coconut gelato after a four-year absence.
#1 flavour Greek yoghurt with blackcurrant jam ripple gelato – from the sorbet side, it's also a blackcurrant.