Chris Dwyer
In Hong Kong, a city famed for its cultural richness, history and heritage, you're never far from a museum that tempts – whatever your passion, from visual arts to the more unusual.
There's an interactive ocean centre and museums on space, railways and medical sciences. Coastal defence and maritime history both get dedicated spaces, as does Hong Kong's beloved local pastime of horse racing.
And if you've ever wanted to immerse yourself in the steaming world of cup noodles? You're also in luck.
Few people are as qualified or as passionate as Suhanya Raffel when it comes to celebrating Hong Kong's museum and art scene. Raffel is museum director at M+, Hong Kong's global museum of visual culture, which has transformed the city's artistic landscape since opening in 2021.
The world-class platform for Asian art, M+'s striking complex designed by Herzog & de Meuron sits proudly on the waterfront of the West Kowloon Cultural District, with jaw-dropping views of Victoria Harbour and Hong Kong Island.
Raffel believes that Hong Kong's museum landscape has changed for the better in recent years, thanks to substantial funding from both the public and private sectors.
"Great cities have great cultural institutions of substance and global reach," she said. "This is a great international city but it lacked cultural infrastructure, that cultural capital. You have to invest in it and Hong Kong has – and that investment is now starting to really shift perceptions on Hong Kong."
Here, Raffel picks her six favourite museums across the city, with exclusive tips of what to see and do in each.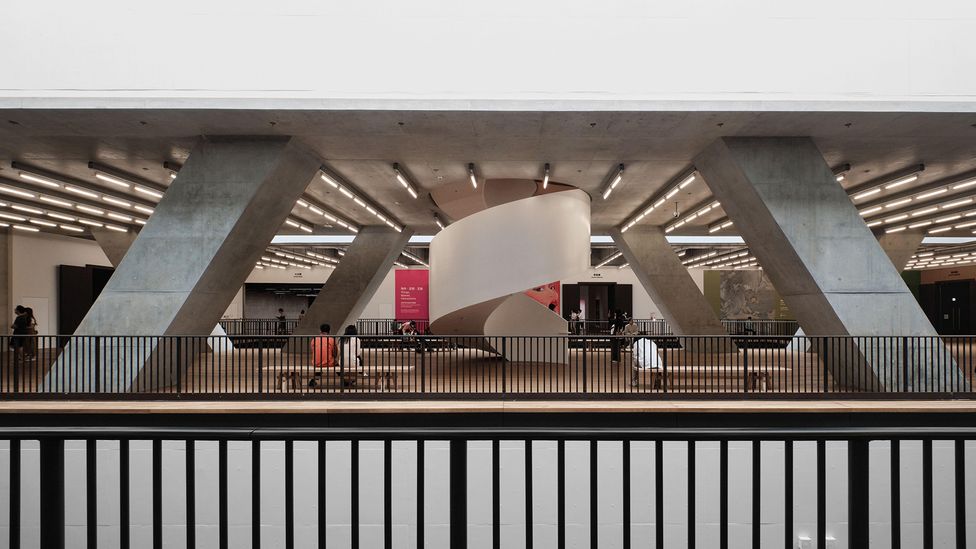 Located in the West Kowloon Cultural District, M+ is one of the world's largest museums of contemporary arts (Credit: Berk Ozdemir/Alamy)
1. Best for contemporary visual art: M+
At around 700,000 sq ft, M+ is one of the world's largest museums of contemporary arts, nearly double the size of London's vast Tate Modern. So, it's no surprise that it tops Raffel's own list.
"M+ stands for museum and more. We're a museum of visual culture, meaning art, design, fashion, film and moving image and architecture," she said.
It's the undeniable jewel in the crown of the West Kowloon Cultural District, costing some US$750m (£609m) and boasting a collection of more than 8,000 pieces, many of which are on show across 33 galleries. Raffel likens its cross-disciplinary focus to Paris' Pompidou Centre and MOMA in New York. "It's many things to many people: an architectural icon, a beautiful social space and an institution with collections that speak to different people in different ways," she explained.
Although there's myriad things to see and do, she suggest that visitors first visit the Sigg Collection – "one of the world's most comprehensive collections of contemporary Chinese art".
Next, she recommends a stop at the Kiyotomo sushi bar in the design galleries: "It's an absolutely beautiful piece of the collection made by the great Japanese conceptual architect and furniture designer Kuramata Shiro. It's quintessential Japanese design, an architecture within our architecture."
TIP: Become a member to get access to M+ Lounge, a sleek exclusive area with stellar views over Hong Kong and 90 artworks from the Living Collection, established by architect William Lim and his wife, interior designer Lavina Lim.
Website: https://www.mplus.org.hk/en/
Address: 38 Museum Drive, West Kowloon
Phone number: +852 2200 0217
Instagram: @mplusmuseum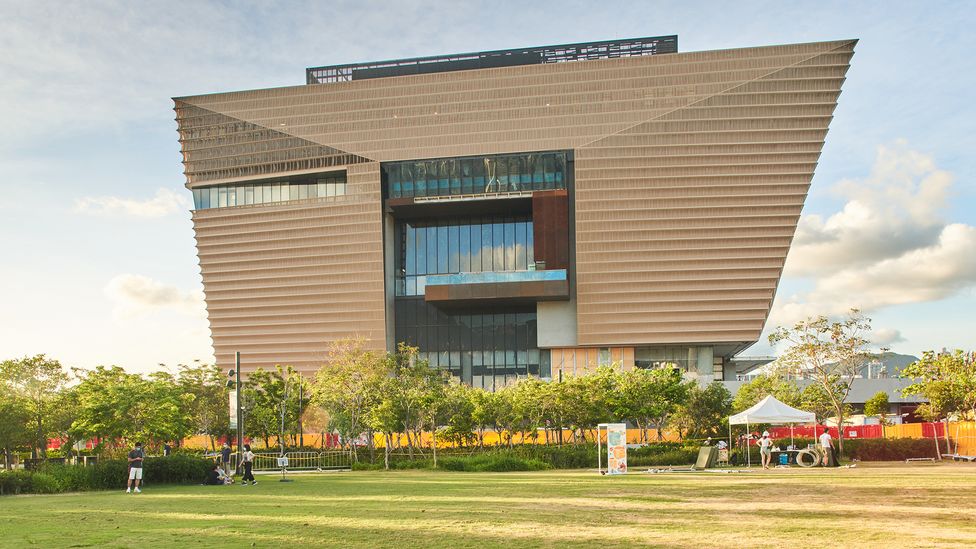 The Hong Kong Palace Museum houses a collection of more than 900 priceless artefacts (Credit: Hong Kong Palace Museum)
2. Best for Chinese treasures: Hong Kong Palace Museum
Just a short stroll from M+, the Hong Kong Palace Museum is another art institution within the West Kowloon Cultural District. Its collection of more than 900 priceless artefacts, many from the Ming and Qing dynasties, comes from the National Palace Museum at the Forbidden City in Beijing.
Raffel reveals what makes it so unique: "There's a rotating roster of loans of extraordinary pieces of art and archaeology. The Beijing Palace Museum is a historic site, not a museum really, but it has these amazing collections of bronzes, gold, the decorative arts, scrolls, lacquerware and beautiful porcelain –­ the big, deep history of Chinese art."
Some are on show in Hong Kong for the first time, while some have never been on public display anywhere.
Special thematic exhibitions also shine a light on Chinese regional treasures, such as a focus on new archaeological discoveries from Sichuan Province, a dazzling collection of jade, gold, bronze and ceramics that date back 4,500 years. Look out for the exquisite, if haunting, 8th Century burial mask that combines gold with turquoise and inlaid rock crystal.
TIP: Regular talks and workshops are offered by esteemed experts across a number of artistic disciplines – just be sure to check whether they are offered in English.
Website: https://www.hkpm.org.hk/en/home
Address: 8 Museum Drive, West Kowloon Cultural District
Phone number: +852 2200 0217
Instagram: @hongkongpalacemuseum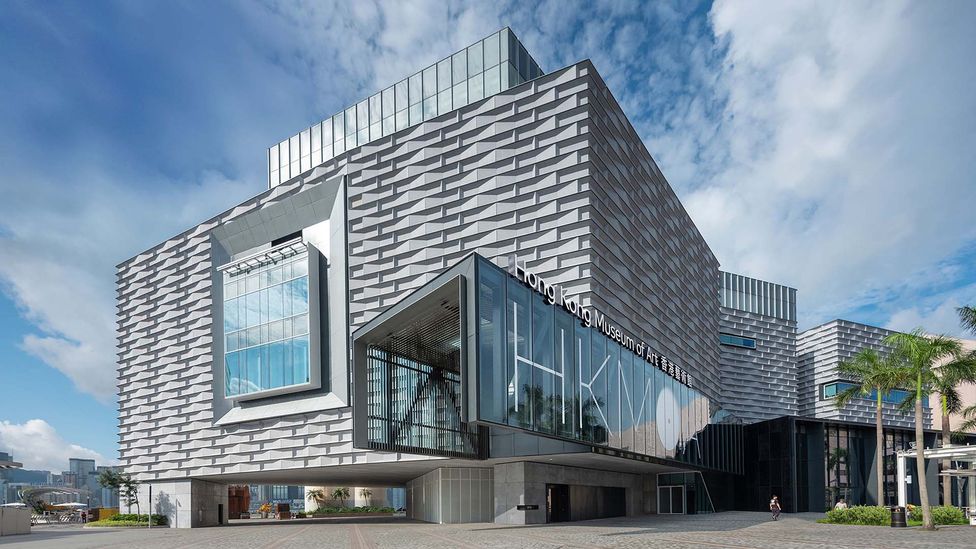 Chinese antiquities, calligraphy and Hong Kong art are on display at the Hong Kong Museum of Art (Credit: Hong Kong Museum of Art)
3. Best for Hong Kong art and Chinese antiquities: Hong Kong Museum of Art
Hong Kong's first public art museum opened in 1962, albeit in a different location than today's site in the heart of the bustling Tsim Sha Tsui district, just along from the city's iconic Star Ferry terminal.
"They had a wonderful expansion which opened in 2019, it really stepped up their programmes," said Raffel.
Chinese antiquities, calligraphy and Hong Kong art are some of the features that draw visitors to the Hong Kong Museum of Art from around the world, part of a curated collection of close to 19,000 pieces. For Raffel, the special draw is "their prize collection [of] export ware that came from China into the world: blue and white porcelain, beautiful reverse glass paintings, some extraordinary holdings."
She explained that the museum particularly chronicles the rise of art in Hong Kong since the 1920s as the city grew increasingly culturally diverse and pluralistic through the influx of people from all over the world. "Don't miss their collection of works by contemporary Hong Kong artists," she advised.
As part of their aim to "make art relevant to everyone", the museum also offers a wide range of learning resources, including some specially targeted for children aged from two to six to explore selected artworks with their parents.
TIP: If you're still not sated, The Hong Kong Museum of Art has a sister museum in Hong Kong Park: the Museum of Teaware in Flagstaff House, a heritage building that dates from 1846.
Website: https://hk.art.museum/en/web/ma/home.html
Address: 10 Salisbury Road, Tsim Sha Tsui
Phone number: +852 2721 0116
Instagram: @hkmoa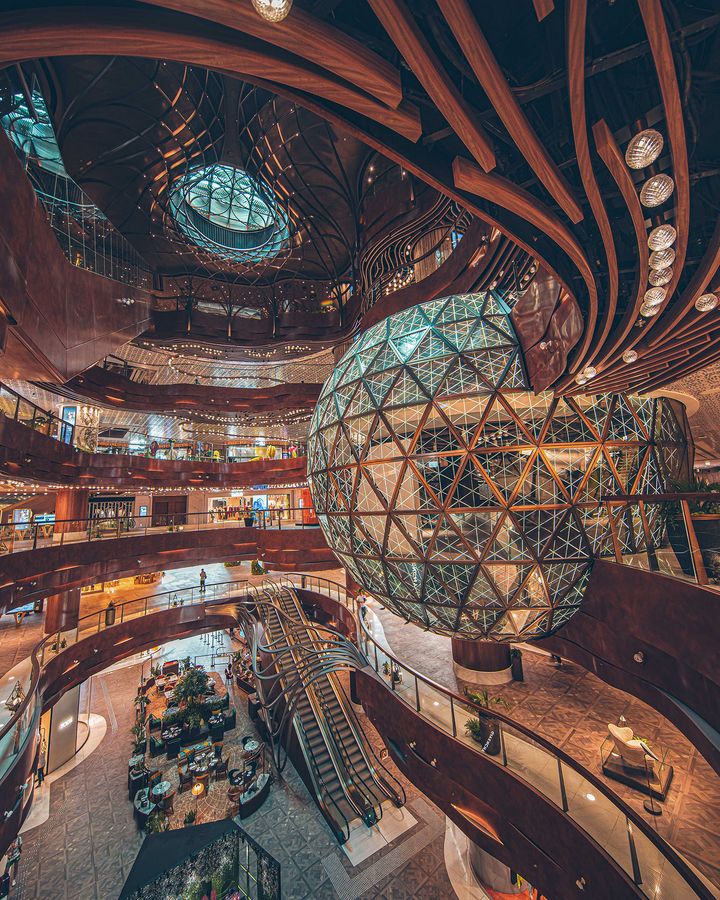 At K11 MUSEA, luxury stores are combined with architecture, art and world-class events (Credit: K11 MUSEA)
4. Best for an immersive experience: K11 MUSEA
Perhaps fittingly for a city like Hong Kong where shopping can seem like a national sport, K11 MUSEA is a unique hybrid that combines culture and retail. Set in Kowloon's buzzing Victoria Dockside, it is (partly) named after the Muses of Greek mythology and promises immersive experiences inart, culture, retail entertainment and gastronomy.
"As a retail experience of design and art, it's quite different to a more formal museum experience – but it's also fun," said Raffel.
Entrepreneur Adrian Cheng worked with more than 100 international artists, architects and designers to create what they call "the ultimate space for all to embark on a 'journey of imagination'". How that translates for visitors is a dazzling collection of luxury stores in a remarkable architectural landscape, allied with a calendar of world-class art events and collaborations.
Contemporary artworks dot K11 Musea, and visitors should look out for works by Paola Pivi, Ron English or Carsten Höller for his surreal mushroom sculptures. Meanwhile, dedicated on-site spaces play host to exhibitions from global artists across multiple disciplines from graffiti and street art to reflections on 200 years of haute couture, held in collaboration with London's V&A Museum.
For Raffel, K11 MUSEA marks a special nexus: "K11 MUSEA is within walking distance of The Hong Kong Museum of Art, so the relationship between private and public art is starting to take real legs and develop in uniquely Hong Kong ways."
TIP: Everyone loves a gift shop and K11 MUSEA offers the MoMA Design Store featuring exclusives from the legendary New York museum, as well as local Hong Kong designs.
Website: https://www.k11musea.com/
Address: 18 Salisbury Rd, Tsim Sha Tsui
Phone number: +852 3892 3890Instagram: @k11musea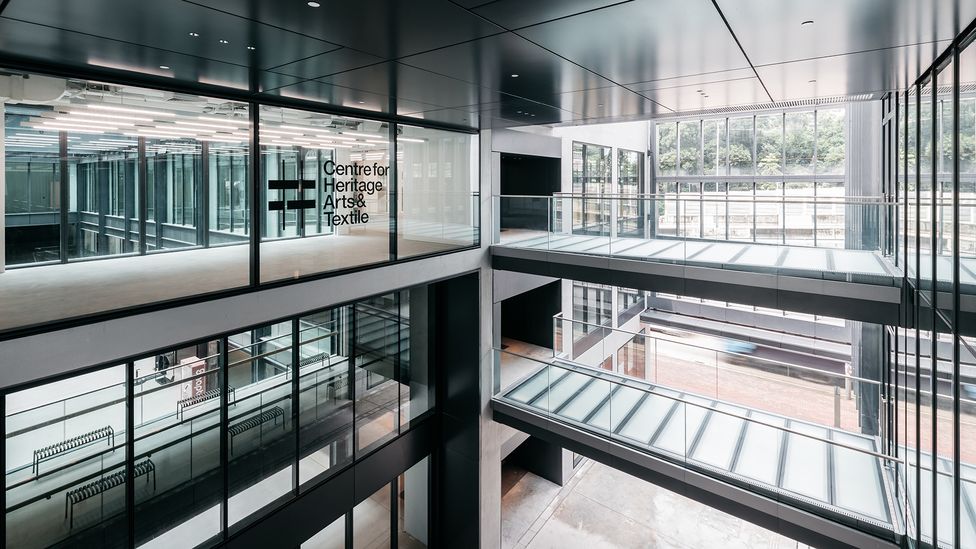 Located in a former cotton-spinning mill, CHAT charts the role of the textile industry in Hong Kong (Credit: CHAT)
5. Best for textiles: Centre for Heritage Arts and Textile
The Centre for Heritage Arts and Textile, better known as CHAT, is based in The Mills, a retail, culture and arts space housed in a converted 1950s former textile mill in the north-western district of Tsuen Wan.
Its location is no accident as CHAT's exhibitions chart the critical role of the textile industry within Hong Kong, chronicling how it played a major part in the city's growth over the years. In the 1950s, Hong Kong was one of Asia's biggest textile exporters with a remarkable 30% of the population working in the industry.
"I would say CHAT is probably the one museum that's most under the radar," said Raffel. "In the actual exhibitions, all of their content is related to some form of textiles, so it's a very interesting curatorial take."
Visitors can try their hand at traditional cotton spinning machines, before designing and crafting their own labels. And they can even experience life in textile mills in Hong Kong's cotton producing heyday of the 1950's using VR technology.
Raffel suggests visiting on a weekend because "they have maker's markets on the rooftop, a really lovely kind of urban pet-friendly environment.
TIP: Entry to CHAT is free, so consider spending your ticket money in their shop on some of their products based on collaborations with prominent local and international artists.
Website: https://www.themills.com.hk/en/
Address: The Mills, 45 Pak Tin Par Street, Tsuen Wan
Phone number: +852 3979 2300
Instagram: @themillshk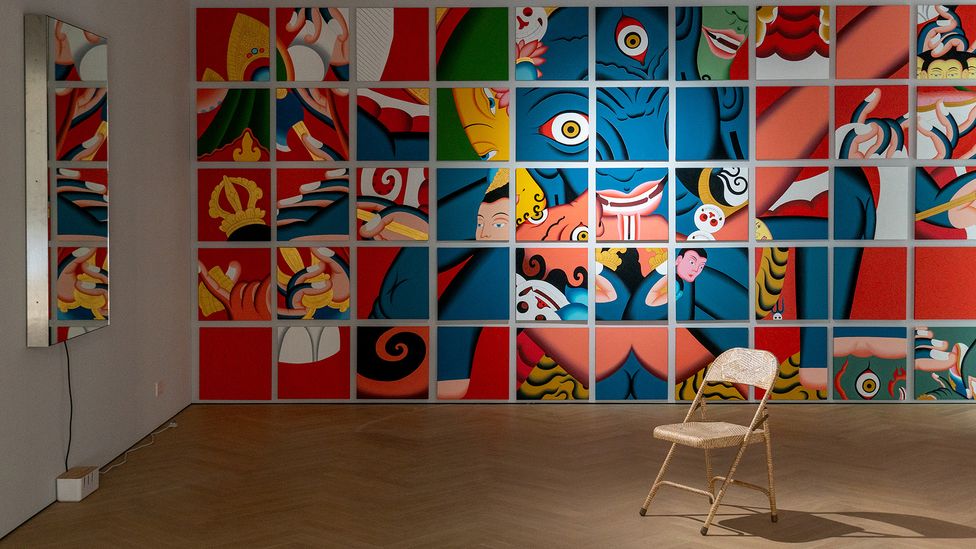 Raffel suggests visitors explore Hong Kong's commercial galleries to catch cutting-edge contemporary art (Credit: Rossi & Rossi)
6. Best for cutting-edge contemporary art: Commercial art galleries
Although not traditional museums, Raffel cites a number of commercial galleries as important spots to catch cutting-edge contemporary art. Owners are always happy to let visitors pop in (although it's worth checking opening times in advance) and they underline why Hong Kong is one of the world's leading centres for the contemporary art business.
"The sector has grown substantially and established many Hong Kong artists," Raffel explained. "Going into industrial buildings through garages with mechanics working away, you get into huge elevators and then there are these great commercial galleries. It feels like Soho and New York 20 years ago and is a very current Hong Kong experience, with grassroots organisations doing important work."
She suggests visiting Massimo de Carlo in Tai Kwun, a beautifully finished heritage restoration project in Hong Kong Island's Central district, where exhibitions may feature American artist Tony Lewis or British artist Daisy Parris.
On the south side of Hong Kong Island, galleries in industrial warehouses, like Blindspot Gallery or Rossi & Rossi with distinct New York loft feels, get her vote. She is also a fan of Para Site in the Quarry Bay district, which bills itself as "one of the oldest and most active independent art institutions in Asia". It all adds up to a truly unique atmosphere.
TIP: The annual Art Basel Hong Kong fair is by far the biggest date in the Asian contemporary art calendar and is filled with special events and exhibitions. A busy but perfect time to experience commercial art galleries.
Website: https://massimodecarlo.com/
Address: Second Floor, Barrack Block, Tai Kwun, No. 10 Hollywood Road, Central
Instagram: @massimodecarlogallery
Courtesy: BBC