Felicity Cloake
This column covered panna cotta, the classic Piedmontese dessert, back in 2011, when your humble columnist was still as fresh and lovely as a buttermilk jelly, if somewhat less wobbly. While I stand by that recipe – it's a banger, as we definitely wouldn't have said a decade ago – there's room for at least one more in my life, particularly if it involves one of my favourite summer fruits.
I concede that raspberries are so perfect straight from the plant (or punnet) that there often seems little point in meddling further, but if you, like me, enjoy their perfumed sweetness gilded with thick cream, then a panna cotta is the logical next step, once you've eaten your fill. Their acid edge stops the combination from cloying, as can happen with more straightforwardly sugary fruits, and lifts the dish from the merely rich to the realms of rich and interesting, a bit like an Italian philanthropist who also happens to know quite a lot about wine.
The fruit
I prefer recipes, such as those from fruit-growing giants Driscoll's and from La Cucina Italiana magazine, that use a high proportion of raspberries to cream, rather than Nigel Slater's more subtle approach in the second, fruit-focused volume of Tender, but, like him, I have no patience with the idea of filtering out their copious seeds. Not only is this annoying and wasteful, but the crunch they add is, for me at least, part of the pleasure. (If you don't enjoy teasing them out of your molars for days afterwards, you'll need to increase the amount of fruit in the recipe below to make up for whatever you lose to the sieve).
The Driscoll's version is the only one to heat the fruit along with the cream. Though, despite the name, the cream is merely warmed to dissolve the gelatine, I think the fruit is best kept cold, or it can lose its pleasing sharpness and turn one-dimensionally jammy instead.
I try two recipes that don't incorporate the fruit into the cream mixture: one from the Michelin-starred Edinburgh chef Martin Wishart, which macerates the raspberries, briefly sweated in a hot pan, with raspberry coulis, liqueur, vanilla and sugar and serves them on the side alongside a plain panna cotta, and one from New Zealand Woman's Weekly magazine, which makes it into a jelly that is then layered on top of the panna cotta with a single fruit suspended in it. Naturally, both are delicious and visually striking – I'm particularly fond of the combination of tangy, slippery fruit and rich, sweet milk jellies – but I'd like to incorporate the fruit into the panna cotta itself, otherwise it feels more like a serving suggestion.
(I can confirm, thanks to the unpredictable nature of the modern supply chain, that you can use defrosted fruit in this recipe, or indeed overripe or crushed berries that you feel aren't quite up to snuff.)
The dairy
My plain panna cotta is made from double cream, milk and buttermilk, though there's no need for the last when using naturally tangy fruit as a flavouring. Most recipes I try use a combination of double cream and milk, though, having checked the average fat content of Italian panna fresca and American heavy cream, I use what's sold here as whipping cream (38% fat) rather than the double cream (48%) that features in both the Cucina Italiana and Driscoll's recipes. Slater and Wishart both opt for a ratio of one part milk to four parts cream, Driscoll's for a more modest 1:2 and Cucina Italiana uses cream alone, while the New Zealand Women's Weekly crew mix in almost as much yoghurt as double cream, which, unsurprisingly, yields a denser, slightly tart result.
Slater whips some air into the cream to give his panna cotta a light, moussey quality, but, much as I love rich desserts, even I can't eat as much of them as I'd like – plus, I think a very high dairy-fat content is better paired with raspberries on the side, because in combination it mutes their flavour. However, I favour yellow, unhomogenised cream that's not widely available in lower-fat varieties, so, with the help of my GCSE maths, I've adjusted the ratios to supply roughly the same fat content as the Driscoll's recipe, but using double rather than whipping cream.
Possibly something is lost in my translation of the Cucina Italiana recipe, because 15g of gelatine sheets is an awful lot to set 300ml cream. I like my panna cotta far looser and softer, so I'll be using a mere 10g for 450g dairy.
The flavourings
Slater adds rose water, which is a happy pairing with raspberry (as long as you don't make the same mistake I did and add the recommended couple of teaspoons without pausing to check its strength), Driscoll's lemon juice, which shouldn't be necessary, unless your berries lack acidity, and La Cucina Italiana and the New Zealand Woman's Weekly vanilla, which does, I will admit (long-time readers will be aware of my scepticism about the thoughtless use of this sweet spice), work well here. The Kiwis amp up those vanilla notes with white chocolate, which, while it tastes good, gives their panna cotta a slightly fudgy density that I'm less keen on, preferring the dairy element to be silky-smooth as a contrast to the aforementioned crunchy seeds.
Sugar is, of course, a must for all bar the most spartan of palates – this is a pudding, after all – but raspberries have such an affinity with honey (in cranachan, for example) that I've decided to substitute it for the usual caster variety. Should this not appeal, add white sugar to taste instead, and perhaps pop in some vanilla seeds, too.
More fruit won't hurt, and dried rose petals always look romantic (as do fresh ones, if you know they haven't been sprayed with anything toxic), but if you're really out to impress, then crush a few extra raspberries to produce Wishart's wonderfully sweet and tangy sauce, which looks beautiful underneath the panna cotta, if you choose to unmould them.
I wouldn't recommend lining the moulds with greased clingfilm to help with this, as a couple of recipes suggest, not only because it's wasteful, but because it tends to lead to an oddly shaped dessert. Instead, grease them well before filling and, once the contents are set, dip them briefly in warm water to melt the outer layer and release the panna cotta from the mould. Or just save yourself the stress and serve them in the dishes.
Perfect raspberry panna cotta
Prep 5 min
Cook 5 min
Chill 2 hr+
Serves 4
5 x 2g gelatine leaves
240ml double cream
210ml milk, preferably whole
50g honey, or a little more if the fruit is particularly tart
375g raspberries, plus extra to serve
Soak the gelatine leaves in a bowl of cold water until they go floppy. Heat the cream, milk and honey in a small pan until the honey dissolves and the mixture is hand hot.
Wring out the water from the gelatine and stir the softened leaves into the hot cream until they completely dissolve. Pass through a sieve into a jug set in cold water, then leave to cool to just warm, stirring occasionally.
Meanwhile, mash the raspberries to a smooth pulp, or use a stick blender or mini chopper to do the same, and lightly grease four smooth-sided dishes or coffee cups with neutral oil (if you're planning to unmould them, that is).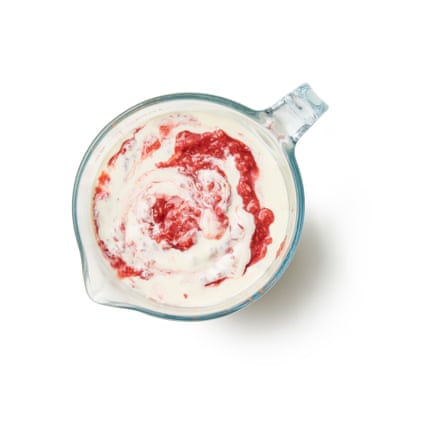 Once the mixture is fairly cool, but before it starts to set, stir in the pureed raspberries, then divide the mix between the greased moulds. Cover and chill for two to three hours, until firm.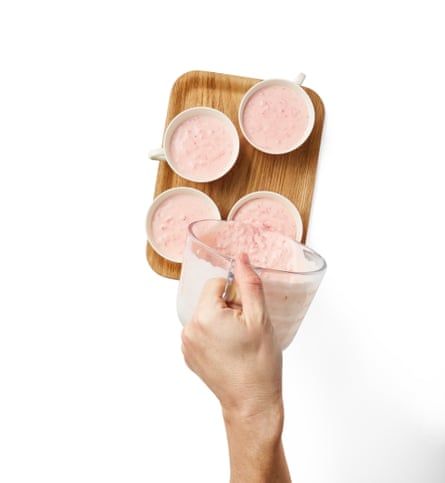 To turn out, dip each mould briefly in warm water for 10-15 seconds, making sure it doesn't touch the panna cotta, then use a small flexible knife or similar to pull the panna cotta away from the side in one place. Put a plate over the top, invert and give the base of the mould a sharp tap. The panna cotta should come away cleanly, but if it doesn't, repeat the dipping-in-warm-water process again. Serve with extra raspberries on the side.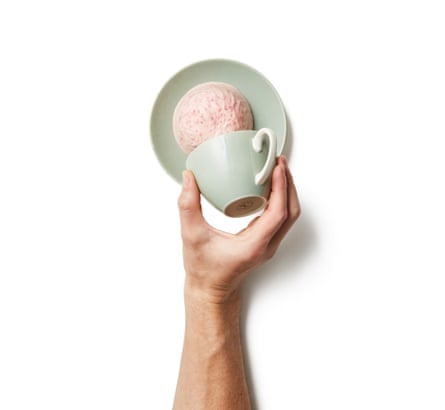 Courtesy: theguardian