Sian Anna Lewis
From a log cabin adrift on a lake to a campsite that runs down to the sea, these boltholes specialise in splendid isolation
The Lazy Duck, Aviemore
Take it easy at this slow-living sanctuary among the soaring Scots pines of the Cairngorms national park. A clutch of eco-friendly cabins, a safari tent and a tiny campsite allow adventurers to hole up across these six wild acres in any way they wish, but the hidden gem here is the Woodsman, a wooden cabin for two with mammoth views of the mountains from the porch. There's a wood-fired hot tub and a sauna available for guests to book, or practise your downward dog with daily yoga sessions.
Cabins from £134 per night, minimum 3 nights, lazyduck.co.uk
Skoolie Stays, Sussex
This all-American school bus travelled across the Atlantic to reach a coastal meadow in Sussex. Inside, the converted bus is surprisingly chic and spacious, and the main living area is lined with warm teak. Your big yellow home-from-home is parked just a mile from Beachy Head's chalk cliffs and lighthouse, and the coast path lets you stretch your legs towards the legendary Seven Sisters cliffs.
From £148 per night, minimum 2 nights, sleeps up to 4, skooliestays.co.uk
Troytown Farm Campsite, Isles of Scilly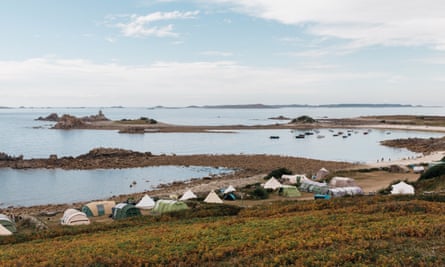 Life goes at a slow pace on the car-free island of St Agnes, one of the Isles of Scilly found 28 miles off the Cornish coast. Troytown is in some ways a simple camping spot; the jaw-dropping bit is the location. Two meadows run gently down to meet the Celtic Sea, with tent-door views of sparkling ocean and rocky islets crowned with lighthouses. Swing in a hammock strung up from the rocks, kayak along the island's edge or visit the farm's dairy – the clotted cream ice-cream is legendary.
£12 per person per night, troytown.co.uk
Trees, Cumbria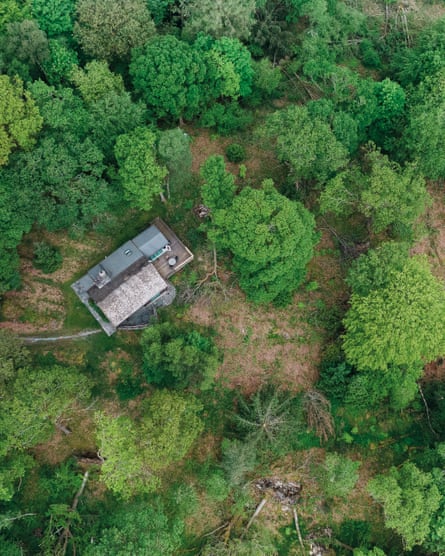 A 1930s log house perched on the slope of a Cumbrian fell with forest flanking every side, this is the closest you'll get to feeling like you're tucked up in a treehouse without having to leave the ground. The cottage has sweeping views of Windermere,, dotted with sailing boats in fine weather, Beatrix Potter's former farmhouse, Hill Top, now a National Trust site, is close by, while Esthwaite Water, which inspired the character of Jeremy Fisher, is an easy walk away.
From £216 per night, minimum 3 nights, sleeps up to 4, nationaltrust.org.uk
The Boy John, Gwynedd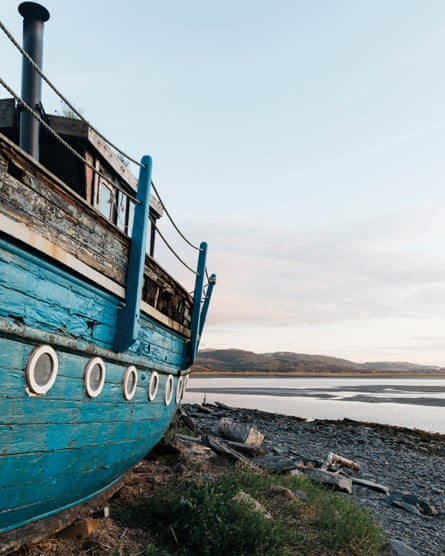 It may not leave dry land, but this beached boat, run aground on the shores of the Dyfi Valley estuary in mid-Wales, makes a magical stay for lovers of the sea. The rustic wreck turned glamping boat is not a posh berth, but it's a comfy and quirky one. Bring your binoculars, as the boat is a fabulous place from which to keep an eye on wildlife and a large corner window has sweeping views of the estuary, across to Ynys-hir RSPB nature reserve and the towering peaks of Eryri/Snowdonia national park.
From £60 per night, minimum 2 nights, sleeps up to 4, smugglerscove.info
Bird How, Cumbria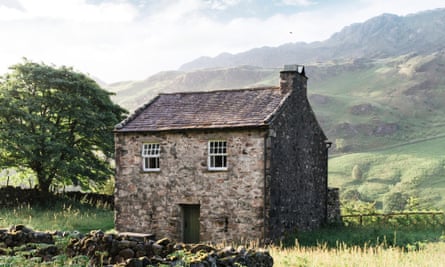 It takes a lot to get off the beaten track these days, but there's a corner of the Lake District where you can properly leave the crowds behind. Bird How is in the Eskdale Valley, a wild corner of the Lake District with undulating mountain roads that can be cut off completely in winter. When you eventually arrive at this former cow barn, you'll find no phone, no wifi, no TV signal; no mod cons at all. Inside is simple – more bothy than posh cottage – but you're surrounded by wild spaces and rising behind the cottage are the foothills of Scafell Pike.
From £147 per night, minimum 3 nights, sleeps up to 4, nationaltrust.org.uk
The Raft at Chigborough, Essex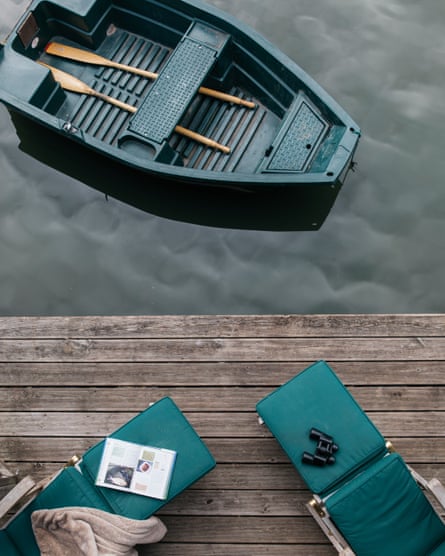 This extraordinary two-storey cabinis perched on top of a wide wooden platform tethered to the bottom of a reed-lined lake. To reach it, you can stash your bags on board a small boat and row yourself across, or use the floating ferry platform to traverse the water. The sun sets slowly at the Raft – and the best place to watch it sink into the lake is from the luxury of your very own wood-fired hot tub.
From £215 per night, minimum 4 nights, sleeps 2-4, canopyandstars.co.uk
Hafod y Llan campsite, Eryri/Snowdonia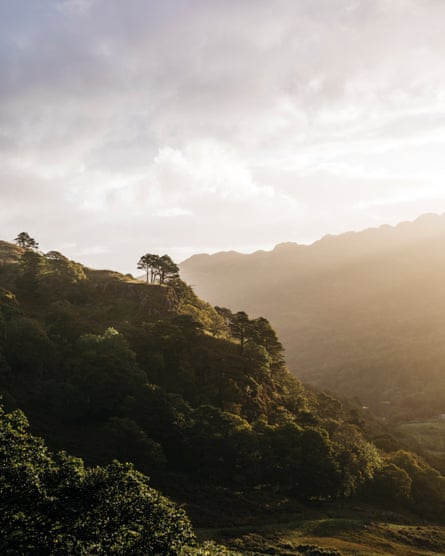 Here's how one happy camper described Hafod y Llan, a simple campsite spread out in Wales's Nant Gwynant valley and in the shadow of Yr Wyddfa/Snowdon: "Babbling stream, large shady oaks, sheep in an adjacent fold and, of course, mountains and lakes. Want starry skies? This is a superb place to bring your binoculars." It's hard to think of a more appealing description of a place to pitch your tent. Most hikers camp here to test themselves on the biggie, Yr Wyddfa/Snowdon. The steeply ascending Watkin path leads from the campsite to the summit over three hefty miles.
From £20 per night, nationaltrust.org.uk
Lyveden Cottage, Northamptonshire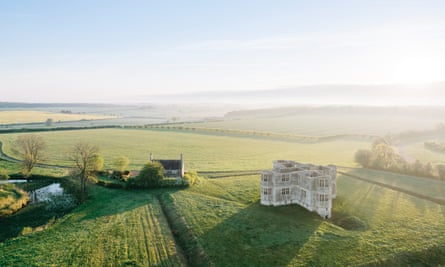 Lyveden is the definition of a romantic ruin. Once home to the Tresham family, prominent landowners in the area, this Elizabethan pile includes a manor house, a moated garden, a picturesque folly and a recently restored apple orchard. It's a fairytale place to explore – and even better, if you stay at Lyveden Cottage, a former forester's house on the estate's meadows, you'll get all of its wildness to yourself once the other visitors have gone home. The cottage sits in lush gardens above the manor house and has its own romantic ruin in the back garden – unfinished Lyveden New Bield stands open to the elements just as the stonemasons left it back in 1605.
From £151 per night, minimum 3 nights, sleeps up to 5, nationaltrust.org.uk
Brownsea Island, Dorset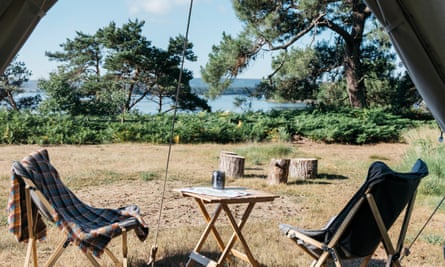 The island that inspired Robert Baden-Powell to start the Scouts movement back in 1907 still has an adventurous spirit today. Brownsea Island sits in the calm waters of Poole Harbour, but this little slice of land has a wild spirit, a flourishing wildlife population and a wonderful campsite to explore from. The most famous resident here is the red squirrel – a population of 200 thrive on Brownsea. JPitch your tent in a shady woodland glade or book one of the campsite's suspended tree tents.
From £28 per night per tent, minimum 2 nights, nationaltrust.org.uk
Courtesy: theguardian