Kate Ryan
Soup has a dialogue of its own. It's never just a bowl of soup, and we all have our favourite for a reason: a memory, an emotion, a hard time, a joyful time. The comforting things we ladle into bowls are among the most personal foods we make and consume.
There is no absolute definition of what makes a soup: ingredients, culture, texture and flavour vary to produce a dish that can be creamy and thick, bright and zingy, or hot and brothy. Whatever it looks like or tastes like, soup is the language of home.
Blanca Valencia, Mei Chin and Dee Laffan are three women from wildly different backgrounds, countries and cultures connecting over a shared love of food in Ireland. Hailing from Spain, the US and Ireland respectively, together they are the voices behind the award-winning Spice Bags Podcast. The podcast focuses on food in Ireland through the perspective of the international communities who live and work there. Valencia, Chin and Laffan describe the podcast as coming in three flavours: deep-dive explorations of a national cuisine; interviews; and staple chats where the hosts "banter" over a selected topic from their own cultural perspective.
It was during one such staple chat on the topic of soup that all three hosts found common ground they could unite upon. The idea arose to pitch a book about soup centred around the international diaspora in Ireland. They brought the idea to Kristin Jensen, founder of Nine Bean Rows publishing house and creator of the Blasta Books series of cookbooks, which is shaking up the cookbook publishing scene in Ireland.
In January 2023, that nugget of a cookbook idea was published. SOUP showcases 25 recipes gathered from friends, acquaintances and podcast guests. From Africa to Turkey, China to Scotland – from Mexican sopa de tortilla to a Danish elderberry gazpacho-like soup – each recipe represents a person, a culture, a history.
"No-one has ever described a soup to me without a story," said Laffan. "These are personal renditions with food memories and nostalgia attached. Soup does that; it evokes emotions and stirs us up in the best way."
Ireland is known as the country of a hundred thousand welcomes, but as immigrants, Chin and Valencia desired a platform for their voices to be heard. "It was hard," said Chin, "No-one was listening to us."
Producing the podcast connected them to the wider international community in Ireland.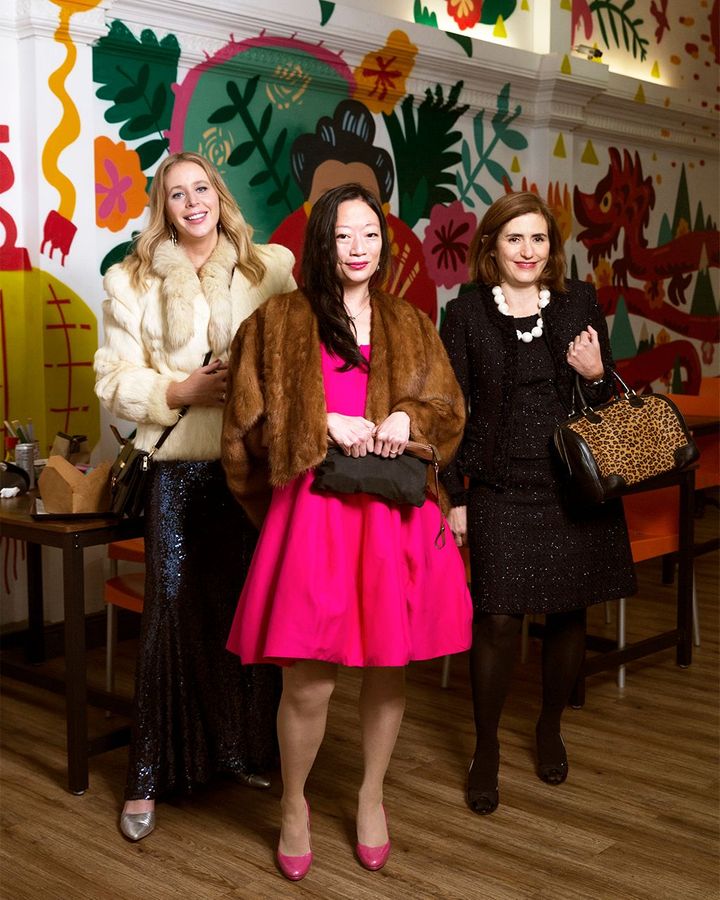 Dee Laffan (left), Mei Chin (centre) and Blanca Valencia (right) feature on the Spice Bags Podcast (Credit: Blasta Books)
"We found all the people we worked with that had interesting takes on soup, what it means to them and their story," said Valencia. "These soups define who they are, and I don't think any dish defines people as much as soup does. They're ambassadors for their country, and they want to represent it with their food."
Chin added that no other food evokes home the way soup does. "We wanted to do a book about immigrant Ireland; how to comfort yourself when away from home and trying to create home in a different place. Soup is the best way to do that."
For Valencia, Chin and Laffan, choosing a favourite recipe from the collection was easy: they selected a recipe that simultaneously stirred up favourite memories, a love of potatoes and an invocation of comfort.
Ajiaco is a Colombian soup made with chicken, corn and three types of potato. It's a typical dish of Bogotá but largely unknown outside of Colombia. Valencia came to know and love it while living there. Laffan and Valencia had the privilege of dining on freshly made ajiaco at the official residence of the Colombian ambassador to Ireland, HE Mrs Patricia Cortés Ortiz.
Valencia had mentioned to a friend working at the Colombian Embassy how she'd love to do something around ajiaco, "thinking she would say this food was made by the chef," Valencia recalled. "Instead, she said this is the Ambassador's dish and she cooks this all the time."
For Laffan, being cooked for and served in the ambassador's home added layers of understanding to the dish that the recipe's words alone couldn't express.
"To see how carefully she made the soup and explained the ingredients, how she loves to shop for hard-to-find ingredients – something so many immigrants go through to find their taste of home," she said. "We sat down to eat with her husband, and on the table was beautiful Colombian handwoven placemats and traditional blue and white crockery. It reminded me so much of soups I make, or I'd had. Ajiaco has three different potatoes in it – in a way, it couldn't be more Irish. This wonderful soup unites us."
As Her Excellency made her soup, Valencia experienced a moment watching this woman of high office cooking, proud to share her soup with others. The recipe was the ambassador's mothers, passed down to her, redolent with traditional flavours that reminded her of cooking at home in Colombia. She was able to source Colombian potatoes, and a specialist grower called Singing Frog Gardens based near Bantry in West Cork was growing guascas (an herb popular in Colombia) sending bunches up to Dublin for her.
"I thought, what a wonderful woman to see how she's not afraid to do this, she's owning her skill and her heritage," said Valencia. "And then the conversations – the same conversations we all have over soup; talking about family memories, how it was cooked for them when they were growing up. Through the experience of writing SOUP, I recognise women are behind our best food memories, and we don't give them enough credit for that."
Soup reaches across cultures and class. It's the food of home; the language of home, and something we can all gather around no matter where we come from or who we are.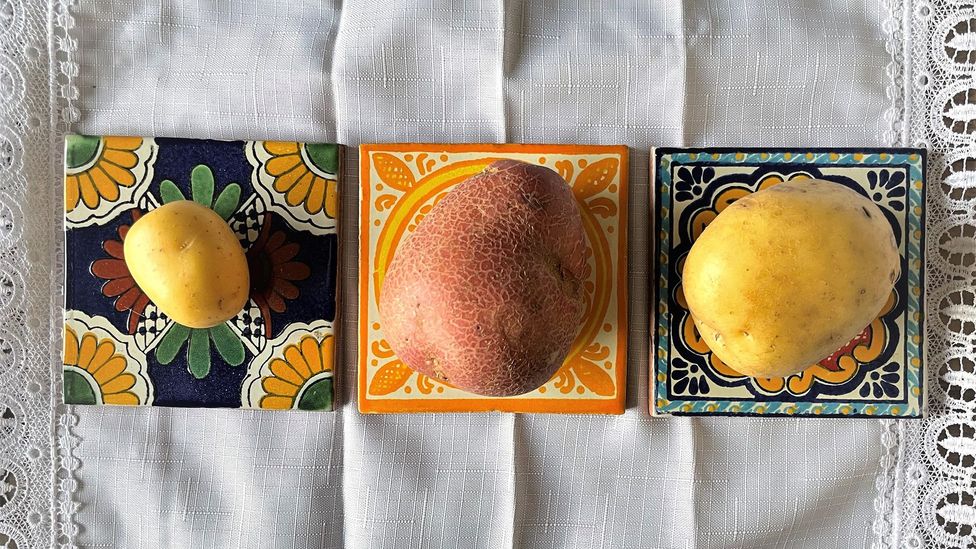 Potatoes are a key ingredient of Ajiaco (Credit: Kate Ryan)
Ajiaco recipe
By HE Mrs Patricia Cortés Ortiz, Colombian Ambassador to Ireland
(serves 4-6)
Ajiaco uses three Columbian potato varieties (Papa Criolla, Pastusa and Sabanero) and guascas, a Colombian herb. Suitable potato substitutes are a mix of starchy, waxy and salad potatoes for textural balance. Thyme and coriander can be substituted for guascas.
Method 
Step 1
Put the water in a stockpot with the chicken on the bone, spring onions, garlic, thyme and half the coriander. Bring to a boil; reduce the heat and simmer for 20 minutes.
Step 2
Add the potatoes in batches, starting with the red-skinned waxy ones. Cook for 5 minutes, then add the yellow-skinned floury ones and cook for 5 minutes more. Add the new potatoes and cook for another 20 minutes until the potatoes start to fall apart.
Step 3
Remove the spring onions from the pot. Pick the leaves from the rest of the coriander and add them to the pot along with the chicken fillets and corn. Simmer for 10-15 minutes, until the chicken fillets are cooked through.
Step 4
Take the pot off the heat, remove the chicken on the bone and the fillets. Let them cool slightly, then shred with a fork.
Step 5
Check the consistency of the soup – the floury potato slices need to be broken up, not left whole. If needed, use a potato masher to break them down a little, but not too much. Check the seasoning and adjust the salt if necessary, remembering the soup will be garnished with salty capers.
Step 6
Stir before serving, ladle into bowls making sure every bowl has corn. Add shredded chicken, a couple tablespoons of double cream or nata and some capers to the middle of each bowl. Serve with avocado quarters, more capers, cream and steamed or boiled white rice on the side.
Courtesy: bbc