GUANAJUATO (AFP) : Controversy has been sparked in Mexico as visitors gather to observe and contemplate the mummified remains of an unidentified woman, affectionately referred to as "the witch," which are on display at a museum exhibition.
The wizened body – cloaked in a floral blouse and skirt, yellow hair still flowing from her head – is one of more than 100 naturally mummified corpses on show in the central city of Guanajuato.
"I don't know who decided to display the body in this way, but it has been exhibited like this for many years," Jesus Borja, Guanajuato's director of culture, told Agence France-Presse (AFP).
The exhibition has triggered a debate between those who consider the mummies to be part of the city's cultural heritage and others who see the display as unethical commercial exploitation.
The corpses, which include babies, were exhumed between 1870 and 2004 due to a lack of space in a local cemetery.
Unable to contact relatives of the deceased, local officials designated them as "cultural heritage."
They are now a very profitable tourist attraction, generating approximately $2 million in annual revenue for the municipality from around 600,000 visitors a year.
The mummies are kept in three museums in Guanajuato, which is known for its colonial architecture as well as its long tunnels and alleyways – remnants of a mining past.
Most of the corpses are exhibited upright in glass cases, with little space between their skulls and the display lights.
A mournful melody plays incessantly in the dimly lit hallways of one of the museums, located in the Santa Paula cemetery.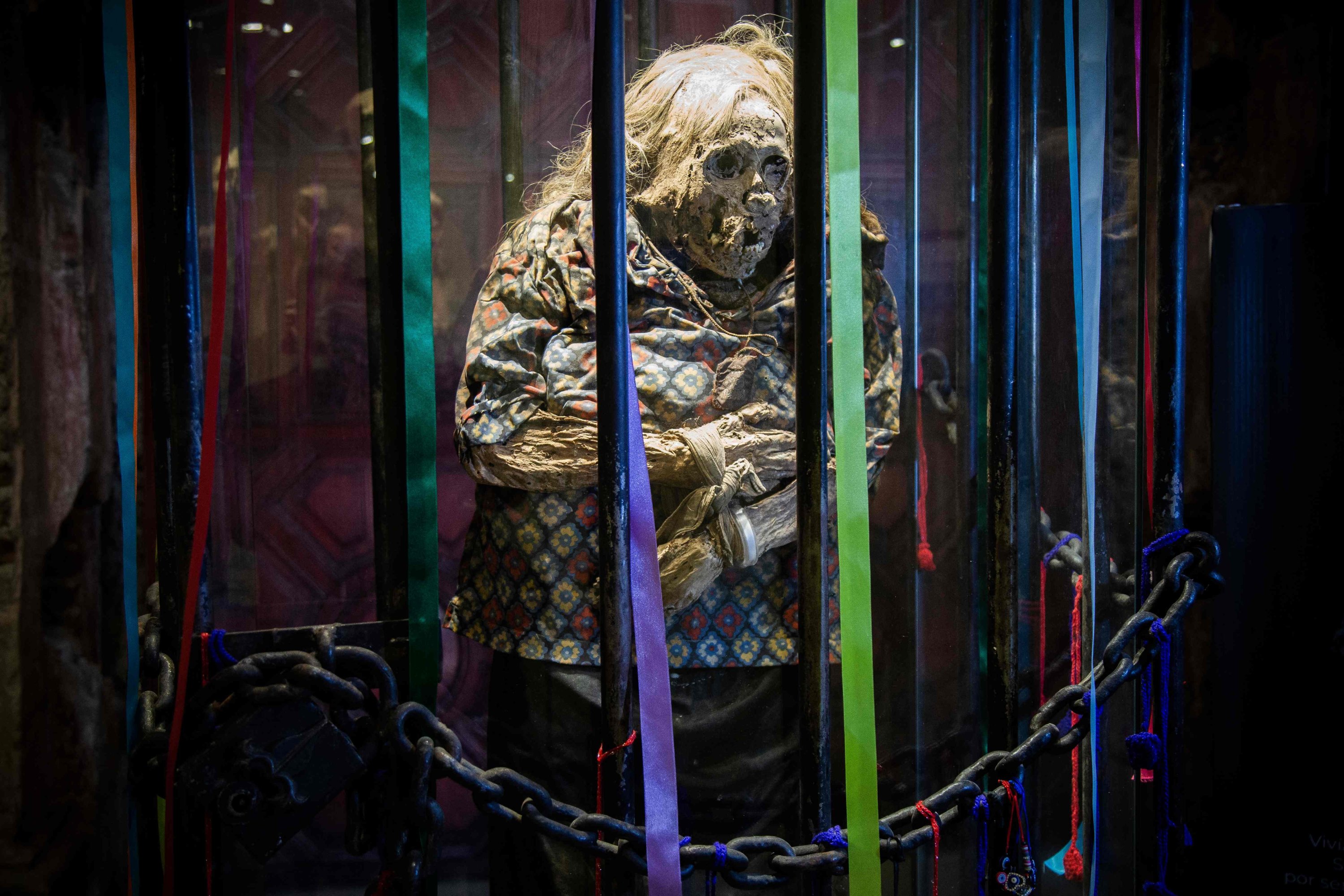 Ethical debate
The controversy grew after several mummies were transported to the capital Mexico City, located around 350 kilometers (217 miles) by road from Guanajuato, to be shown at a tourist fair in March.
Mexico's National Institute of Anthropology and History (INAH) has voiced concern about a possible fungal growth on one of the bodies after pictures showed white dots on the torso and legs.
"It's worrying and strange that an assessment of such bodies was not made before their transfer," the public institution said in a statement.
Borja said transportation of the remains was done with due care, adding that the mummies represent a generational "link."
The Guanajuato government says it asked the INAH to check all the remains before they were exhibited in Mexico City.
The mummy display has divided opinions among residents of Guanajuato.
"I would find it disrespectful if one of my relatives were in the exhibition," said Luis Garcia, a 50-year-old tour guide.
But Josefina Lemus, a 69-year-old retired teacher, said she would not mind being exhibited if her remains were mummified.
"I don't think it's denigrating," she said, adding, "And it's unlikely relatives are still around."
The mummification process can occur naturally as a body becomes dehydrated, said Ilan Leboreiro, an anthropologist who sits on a commission created by the INAH to investigate the identities and condition of the mummies.
The panel's goal is also to restore dignity to the remains, added Leboreiro, criticizing the way in which the "witch" is exhibited.
"It's not ethical to treat the remains of a human being that way," he said.