Rukmini Iyer
One-tin baked gnocchi is something of a signature dish for me , and this version with a creamy tomato and basil sauce is a real ribsticker of a dish – perfect cold-weather comfort food. (If you are cooking for one or two, I'd encourage you to make the full recipe, because the leftovers are fantastic the next day.) And, for a fun baked pasta dish, my recipe for eggs florentine, in which, rather than baking the eggs in a spinach-enriched bechamel, I add cooked pasta for a balanced meal, and double cream for ease and speed. They are lovely when made in individual dishes.
Baked green eggs and pasta (pictured top)
I love eggs florentine but, for a main meal, you need pasta, so I stir cooked fusilli, conchiglie or even spaghetti through the sauce, then break the eggs into small indentations made in each individual oven dish. I use double cream rather than making a bechamel for ease and speed.
Prep 10 min
Cook 40 min
Serves 4
400g conchiglie, fusilli or spaghetti
300g spinach, roughly chopped
300ml double cream
¼ tsp freshly ground nutmeg
Juice of 1 lemon
Sea salt and black pepper
4 medium eggs (at room temperature)
Cook the pasta in a large pan of boiling salted water according to the packet instructions, until just under al dente. Add the chopped spinach,cook for a further minute, until it's wilted, then drain well and return to the pan.
Heat the oven to 190C (170C fan)/375F/gas 5. Stir the cream, nutmeg and lemon juice through the cooked pasta mix, then season to taste.
Divide the pasta between four ovenproof dishes (or one large roasting tin) and make four indentations in the pasta. Break an egg into each, season with salt, then transfer to the oven and bake for 23-25 minutes, until the top of the pasta is crisp and the eggs are just cooked through – the yolks will be jammy, rather than liquid. Leave to stand for five minutes, then serve hot.
Creamy baked gnocchi with tomatoes, mozzarella and basil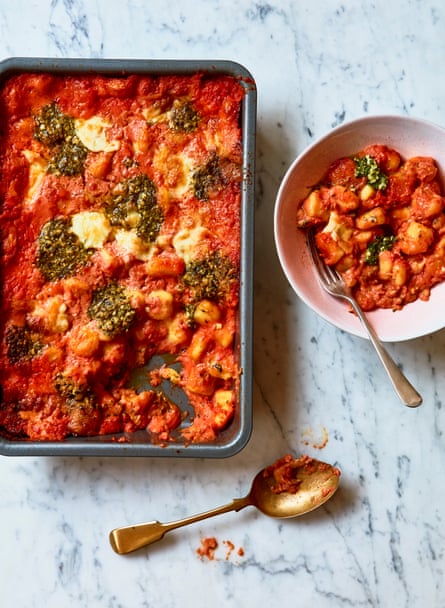 Rukmini Iyer's creamy baked gnocchi with tomatoes, mozzarella and basil.
Prep 10 min
Cook 35 min
Serves 4
1kg gnocchi (chilled or vacuum-packed)
2 x 400g tins tomatoes
300ml creme fraiche or soured cream
1 tsp sea salt flakes
Freshly ground black pepper
1 tbsp olive oil
125g mozzarella, torn
90g basil pesto (ie, ½ jar)
Heat the oven to 200C (180C fan)/390F/gas 6. Put the gnocchi in a large bowl, cover with boiling water, leave to blanch for two minutes, then drain well.
Tip the gnocchi, tomatoes, creme fraiche, salt, a good grind of black pepper and the olive oil into a large roasting tin, and mix well to combine. Scatter over the torn mozzarella, dot with the pesto, grind over more black pepper, then bake for 35 minutes.
Remove and leave the gnocchi to sit for five minutes, before serving hot.
Courtesy: theguardian