Web Desk
ISTANBUL : With more than 5,000 years of history and its classical Seljuk and Ottoman houses, Birgi has been listed among the "Best Tourism Villages of 2022" by the United Nations World Tourism Organization (UNWTO). Birgi is Türkiye's third village on the Best Tourism Villages list, following the inclusions of Sakarya's Taraklı and Nevşehir's Mustafapaşa in 2021.
The UNWTO's list is a compilation of outstanding rural tourism destinations worldwide. The 2022 edition included 32 destinations in 18 countries worldwide. The village of Birgi, in Ödemiş, Izmir, was added to this list due to its commitment to innovation and sustainability as well as its architecture and intangible cultural values.
The Best Tourism Village designation covers rural destinations that embrace tourism as a driver of development and as an opportunity for new business and income while preserving and promoting community-based values and products. The list also distinguishes destinations in terms of their focus on developing tourism in line with the U.N.'s Sustainable Development Goals.
Enchanting local and foreign visitors
In the middle of the most fertile basins in Türkiye's western Aegean region, Birgi features tree-shaded cobblestone streets and traditional houses and structures dating to the 12th century.
The village is 7 kilometers (4 miles) from the town of Ödemiş in the Izmir province. It attracts local and foreign tourists due to its proximity to Ephesus, a UNESCO World Heritage Site, as well as to Şirince, famous for its fruit wines, and holiday resorts such as Çeşme, Alaçatı and Seferihisar.
Picturesque Birgi has a storied history of settlement reaching back to 3000 B.C. Ruled by the Phrygians, Lydians and Persians, Birgi was part of the Pergamon kingdom and the Roman and Byzantine Empires, respectively. The village was the capital of the Aydınoğulları Principality during the Anatolian Principalities Period. In 1426, Birgi came under Ottoman rule and remained an administrative and cultural center until the 17th century.
An open-air museum
Birgi contains numerous historical structures, including tombs, madrasahs and mosques, fountains, baths and libraries, many of which date from the Anatolian Principalities and Ottoman periods. Housing more than 200 registered works, Birgi stands out as a riveting open-air museum.
The Ulu Mosque (Aydınoğlu Mehmet Bey Mosque), erected during the Anatolian Principalities period, is among the most magnificent examples of the era's 18th-century civil architecture. In addition, the Çakırağa Mansion, the Imam Birgivi Tomb, the Sandıkoğlu Mansion, the Dervişağa Mosque and the Ümmü Sultan Şah Tomb are also notable structures in the village.
Birgi was declared "a protected area" in 1996. In addition to being the first protected village, Birgi was included on the Tentative List of UNESCO World Heritage Sites in 2012. Furthermore, efforts are underway for Birgi to join Türkiye's Cittaslow (Slow City) network.
Birgi is known for its lush nature, local cuisine and historical past. Visitors to this charming village can also enjoy the opportunity to chat with residents in authentic cafes or courtyards shaded by venerable plane trees and learn about Birgi's culture and history.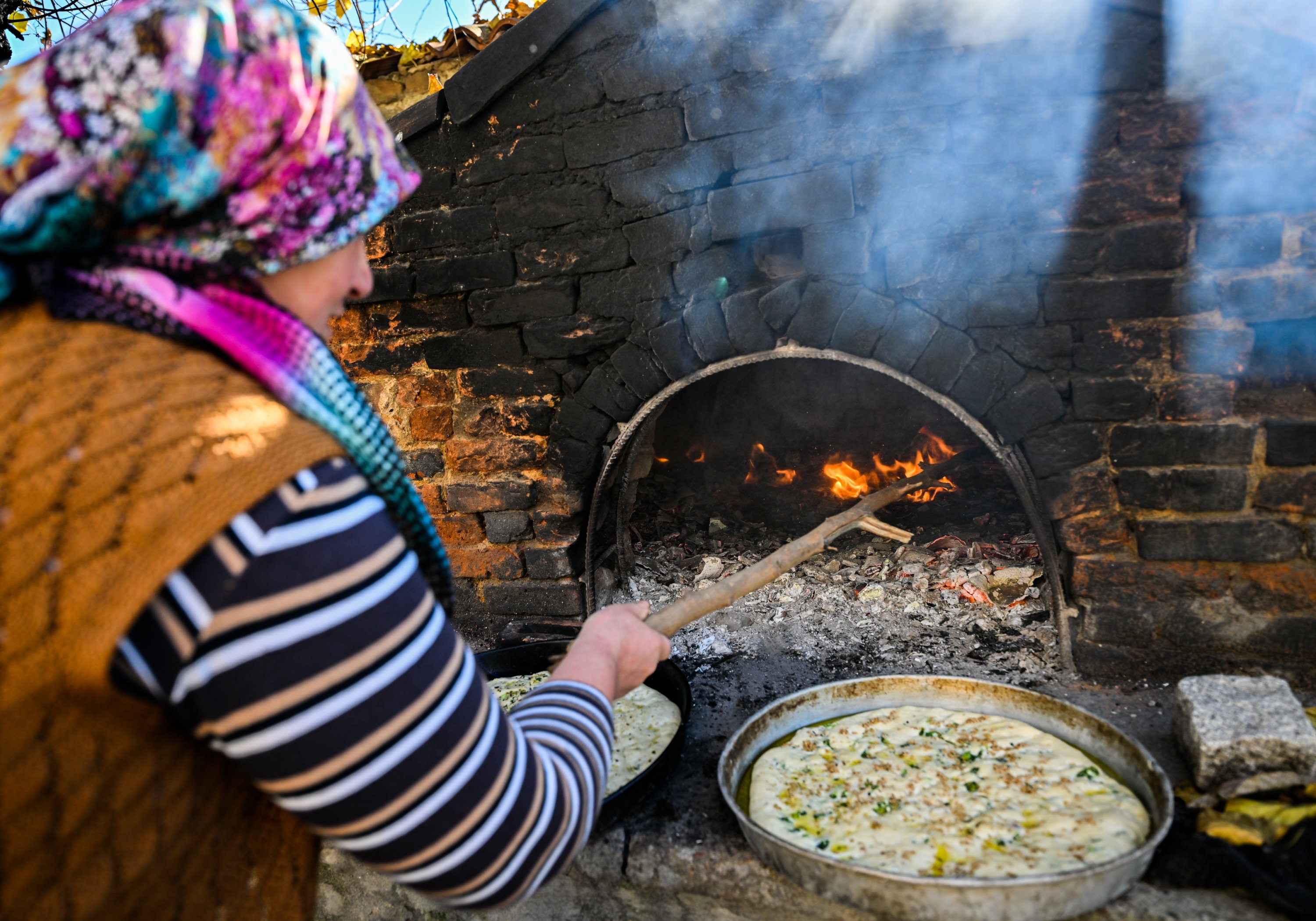 Tasty dishes
Its location and surrounding agricultural richness have shaped the local gastronomic values of Birgi. This primarily Aegean cuisine – a pioneer of healthy eating – is renowned for its emphasis on olive oils, vineyards, herbs and seafood.
Birgi's unique local dishes include the famous Aegean breakfast, which includes a variety of natural products. Other specialties are kestirme soup, made with locally raised chicken; organic herbs roasted or made into salads; buttered keşkek (a wheat/barley and meat stew), çatal (lentil) soup, and stuffed zucchini flowers. Traditional besmet rolls are also prepared in the old stone ovens in the village. In contrast, potato dishes made with Ödemiş potatoes, and snow halva, a mixture of black mulberry juice and the snow of Bozdağ, are also quite popular.
Courtesy: Dailysabah