Leyla Yvonne Ergil
As most expats can concur, chocolate bars and cookies certainly top our taste list, and we can get homesick if we don't get them. Fortunately, Türkiye has its own substitutions and several unique specialties that certainly satisfy any sweet tooth craving
For expats, recounting our favorite candy bars that we can't find in Türkiye and thus bringing them back from our travels or begging and bartering from others to do the same, is a recurring conversation. While I may not find my favorite chocolates in Türkiye these days, which if you are wondering would be a Flake Bar, Crunchy or Butterfinger, there used to be a time when that list of mine may have been different.
A decade ago or so, if someone asked me what sweets from home were on my wish list, my answer would have included Reese's Peanut Butter Cups, M&M's, Oreos, Malteser's and chocolate-covered Hob-Nobs, all of which these days are now thankfully easily available. If one had asked the same question two decades ago, then the now more regularly available candy bars such as Mars, Twix and Kit Kat may have even made the list.
Wanting the unreachable
Having said that, when I used to visit Türkiye from the U.S. before moving here, my list was much different and perhaps, I was even more passionate about it. I would bring home a variety of my favorite candy bars and cookies and have my American friends hooked on the different flavors from Türkiye. From hazelnut cream to pistachio croquant, there are some truly divine candy bars that highlight Türkiye's affiliation with sweets. Not only that, but Türkiye's chocolate brands also produce several variations of popular Western candy bars that sometimes are even better!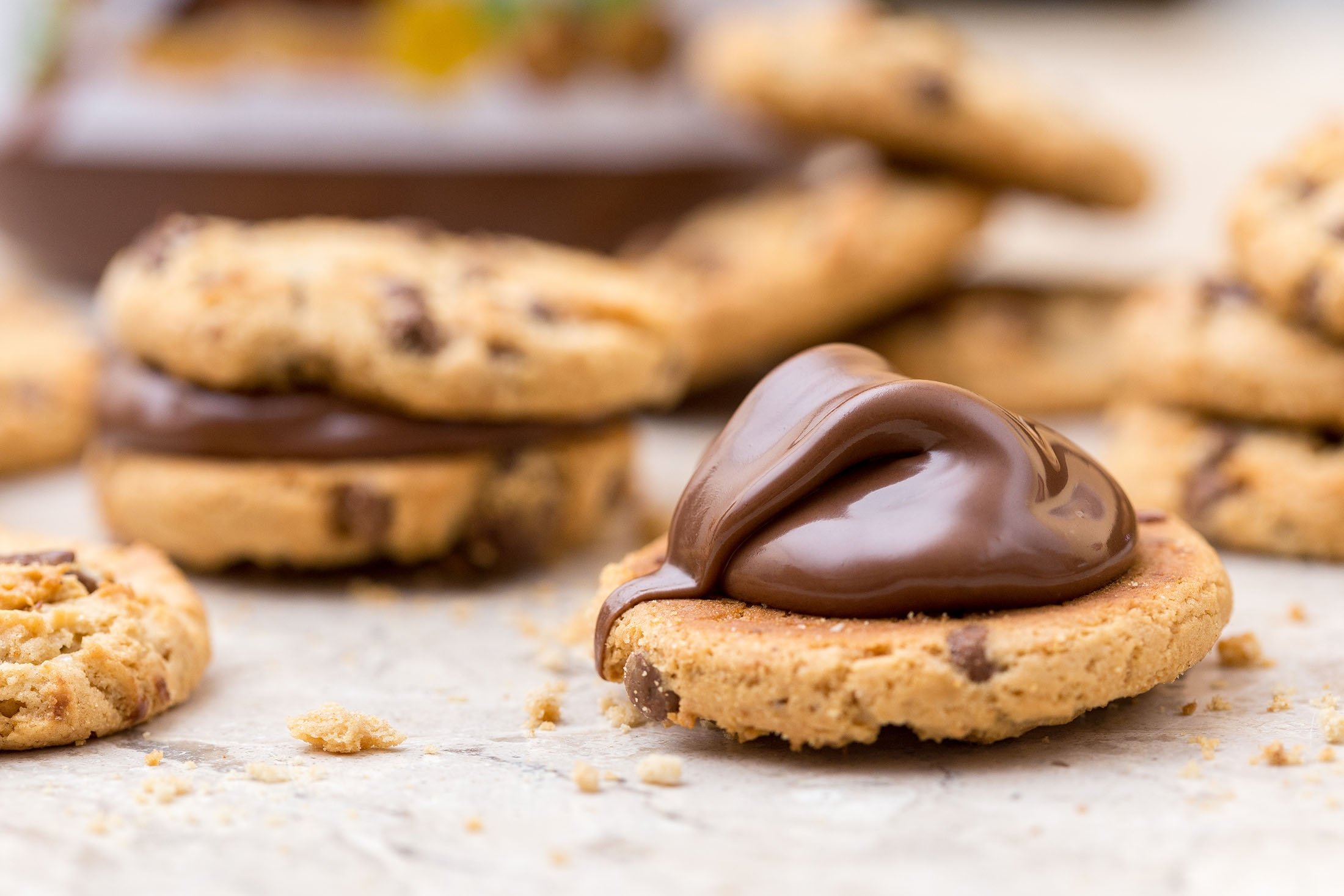 What to buy
It's hard to choose which candy bars to buy when you see shelves upon shelves of shiny packaging. From gold chocolate to white and new fruit-filled variations, these days there are a lot of options. But for the newcomer, the following is a list of the tried-and-tested candy bars that have passed the test of time remaining relevant and crave-worthy to date.
Tadelle vs. Sarella
The classic Tadella is a milk chocolate bar stuffed with a paste of crushed hazelnuts and chocolate. This bar offers a sound introduction to the combination of hazelnuts and chocolate loved so much here in Türkiye. Sarella is a similar bar with a more oozy hazelnut-chocolate paste encapsulated by a crispy wafer that is covered in chocolate.
Ülker's Çokokrem, squeeze-tube
Türkiye's answer to Nutella, but an even better version of the decadent chocolate-hazelnut butter, Ülker's Çokokrem is available in a wide range of jars and tubs, but it is their single-serving mini-toothpaste-like tube of the thick and dark hazelnut butter that was all the rage here in Türkiye many years ago. For many of my friends in the U.S., these tubes served as the first introduction to the chocolate-hazelnut butter that is so rightfully popular here.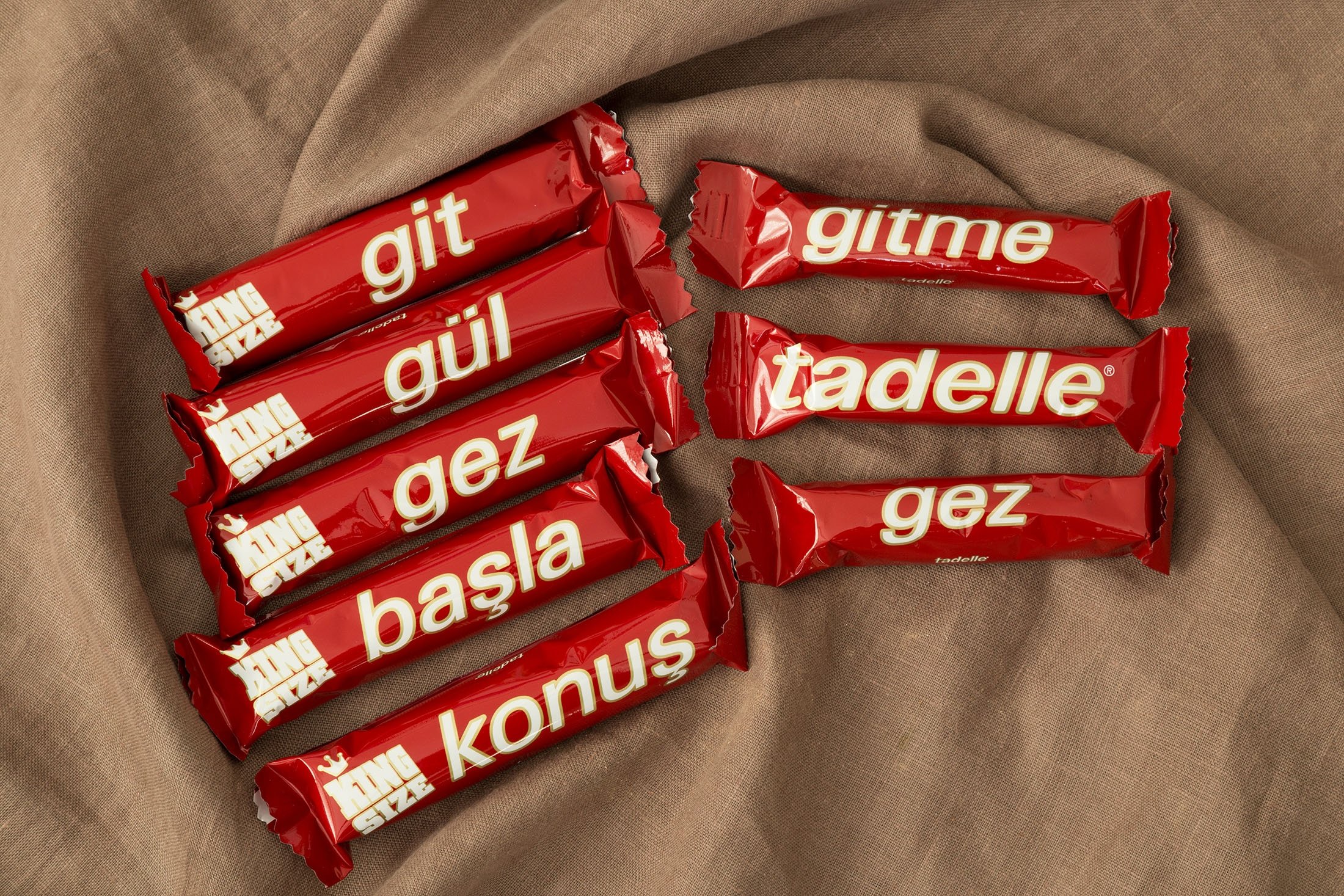 Gofret: Türkiye's Wafer-obsession
The classic Ülker Gofret remains to be Türkiye's most popular and delicious wafer candy bar, which for those like me unfamiliar with the concept, comprises thin layers of wafers interspersed with chocolate and then covered in chocolate. It used to be that the Ülker brand was almost synonymous with the Gofret bar, but now, not only has Ülker made a wide variety of other products, but many other brands have also jumped on the wafer bandwagon. While this style of candy bar is less prevalent elsewhere, in Türkiye it is the most popular style of sweet treat there ever was. As you will find, nearly half the shelves stocking candy in Türkiye will comprise a wafer of some kind.
Çokonat has it all!
Produced by the same brand, Çokonat combines the hazelnut cream, crushed walnuts waffle layers, bringing all the elements of this Türkish sweet flavor profile together into each bite of this scrumptious bar.
Dido: Türkiye's answer to KitKat
Dido is one of those chocolate bars that resemble the Western KitKat bar, but in my opinion, far surpasses it. Thicker chocolate in white, gold and bitter varieties, Dido hits home.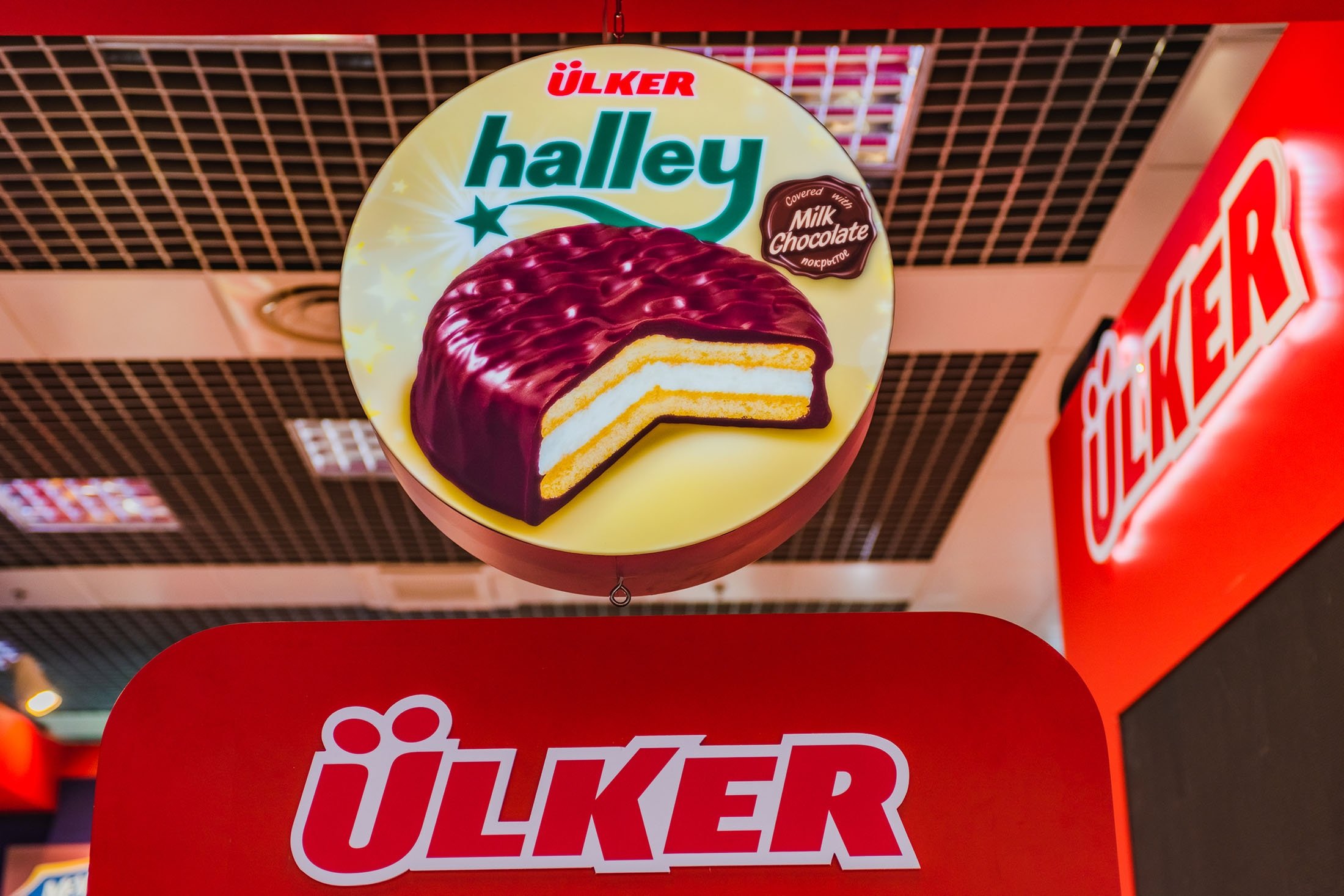 Albeni: The Türkish-twist Twix
It used to be that we couldn't get Twix bars in Türkiye, but we did always have Albeni. While this chocolate bar has the same components as a Twix bar, being that it is a long biscuit covered in caramel and chocolate, it is nearly twice as wide because instead of two sticks like Twix, it comes in one single wide and long bar.
Metro and Coco Star
Metro is like a milder Milky Way, while the coconut-based Coco Star is like a Mounds bar sans the almond. These candy bars can also be purchased in smaller-sized combo packages, in case you want to try Türkiye's copycat variations on these Western classics.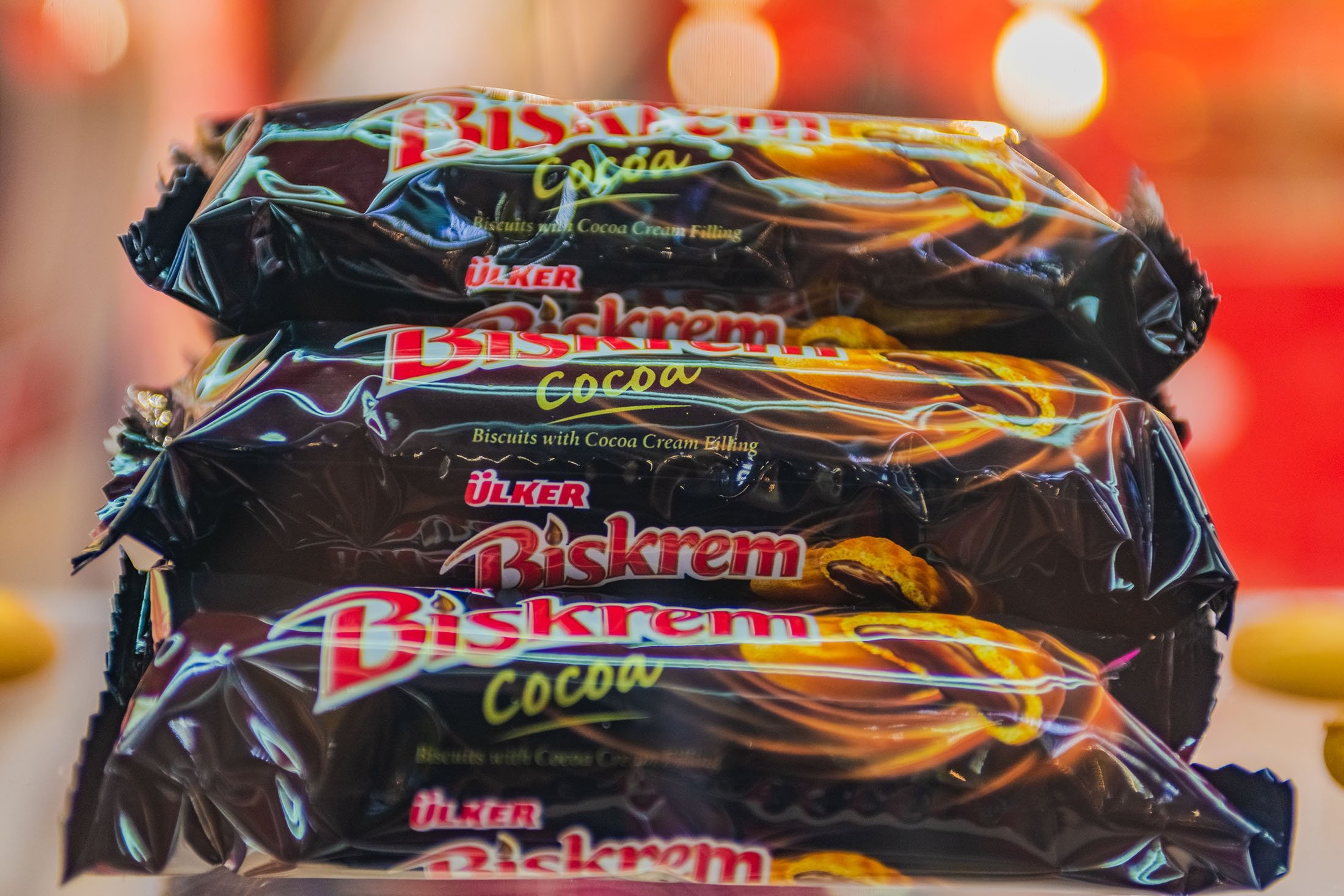 Biskrem: Cream-stuffed cookie
The chocolate and hazelnut cream stuffed butter cookie referred to as Biskrem was revolutionary a few decades ago when it came onto the scene as the most lavish cookie on the shelves. A Biskrem would amaze my friends in the U.S. for both the hazelnut-creme taste and its decadent oozy center. While these biscuits now come in a variety of flavors and with mixed chocolates, the original milk chocolate Biskrem biscuit remains to be perfect in its simplicity.
Hanımeller's hazelnut cookies
A true classic, Hanımeller's hazelnut cookie has retained the same flavor and consistency for decades. It was the first time my friends and I had ever tried and loved a hazelnut cookie and the passion for this regularly available sweet snack ideal for enjoying with tea or coffee, certainly remains. The hazelnut version and their basic chocolate chip cookies are absolutely crave-worthy, they have been around since my early childhood decades ago and these days thankfully remain to be available almost everywhere.
Courtesy: Dailysabah