Sebastian Modak
New York City is one of the most exciting places in the world to grab a drink. This is a city full of speakeasies with secret entrances hidden behind phone booth doors and dimly lit cocktail dens where drinks are guided by your palate and the mixologist's intuition. Sometimes that kind of experience is exactly what you want. But for everything in between, there's the humble dive bar.
What we'd affectionately refer to as a "dive bar" now – cheap beer, bad wine, bottom-to-middle-shelf liquor, a rotating cast of regulars, a casual approach to hygiene – used to be the lifeblood of New York nightlife. But as the city has cleaned up its act in the past few decades and priced out many of these beloved institutions, true dive bars have become less and less common. Thankfully, a few holdouts remain as living embodiments of New York's spirit.
But first, some tips. Just because a place advertises itself as a dive bar, doesn't mean it is. For every genuine neighbourhood bar there are at least three yuppie-baiting imitations where you may be fooled by the graffiti in the bathroom – and then surprised when you're paying $13 for a pint. For the real dives, bring cash, don't try ordering anything too fancy lest you be laughed out the premises (I've seen it happen) and, of course, always tip your bartender.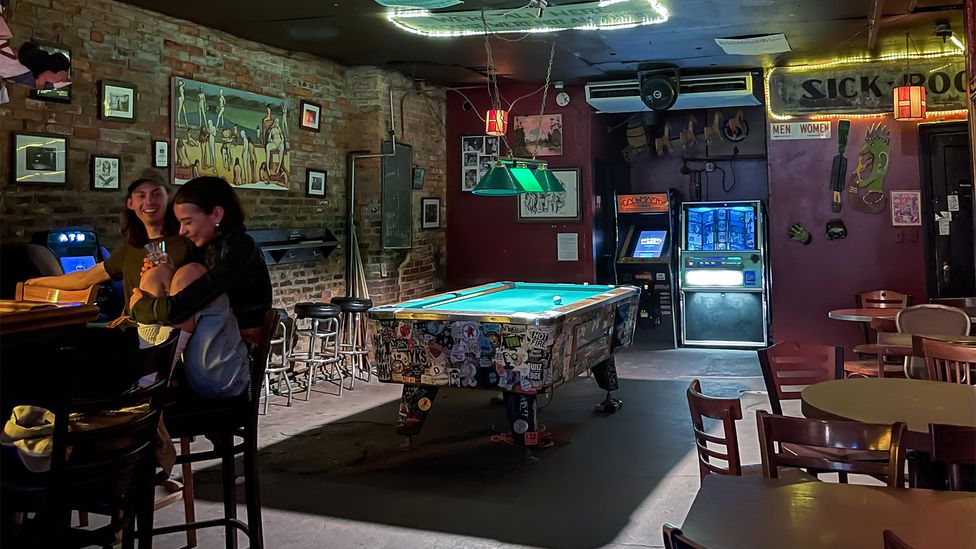 Sophie's is everything you want in a bar and nothing more (Credit: Sebastian Modak)
1. Sophie's
I've been regularly dropping into Sophie's, a sign-less bar on the edge of Alphabet City, for about 10 years – and that makes me a newbie. Pull up a stool and chances are you'll find yourself talking to people who have been ordering "the usual" for four times as long. They'll tell you about the old days, when this corner of the Lower East Side was a haven for punks and artists, and you wouldn't walk farther east unless you were looking for a fix or a fight.
Today, Sophie's is everything you want in a bar and nothing more. The tap list is basic and cheap. A sticker-bombed pool table takes up the back half of the shoebox-sized room. The smattering of tables gets progressively less desirable the closer you move towards the back bathrooms labelled "SICK ROOM". If no one has put money in the jukebox (prices thankfully remain impervious to inflation), the bar remains silent.
Sophie's almost ceased to exist in 2007 as the pressures of gentrification intensified. Thankfully, a new owner took over and changed very little. For now, it's here to stay and is the ideal neighbourhood bar. Just avoid late nights on Fridays or Saturdays when it gets taken over by NYU students who, as a bartender there told me, have occasionally had the audacity to order an espresso martini.
Facebook: www.facebook.com/profile.php?id=100057469541009
Address: 507 E 5th St
Phone: +1-212-228-5680
Jimmy's Corner gets its name from the former owner, a boxer and gym owner (Credit: Sebastian Modak)
2. Jimmy's Corner
Unless it's to catch a play on Broadway or a bus at Port Authority, most New Yorkers will go out of their way to bypass Times Square: too many tourists, too many chain restaurants, too many people dressed like Spiderman asking if you want a photo. But tucked away, steps from five-star hotels and Ivy League social clubs, is a holdout so legendary, some argue it deserves to be registered as a landmark.
Jimmy's Corner was opened by Jimmy Glenn, a boxer and gym owner, in 1971. A daily fixture at the bar for decades, Glenn succumbed to the coronavirus in May 2020 at the age of 89. After a hiatus, the bar reopened early this year, with Jimmy's son in charge. 
From the street, Jimmy's Corner looks tiny, dwarfed by the massive parking garages and apartment buildings that surround it. Enter the front door, and the space looks even smaller. The narrow bar area opens out into an only-slightly-wider sitting area. Everywhere you look, the walls are covered with old boxing photos and memorabilia. A couple of signs remind customers of one of the bar's very few rules: "Let's not discuss politics here."
During happy hour you can get a draft beer for $3 – unheard of in this city, let alone this neighbourhood. But it's the clientele that is the most wonderful aspect of Glenn's legacy. The bar seats are generally all taken by 17:00 by a cross-section of New Yorkers, including manual labourers, office workers, eccentrics and the occasional in-the-know tourist.
Facebook: www.facebook.com/jimmyscornernyc
Address: 140 W 44th St
Phone: +1-212-221-9510
Instagram: @jimmys_corner44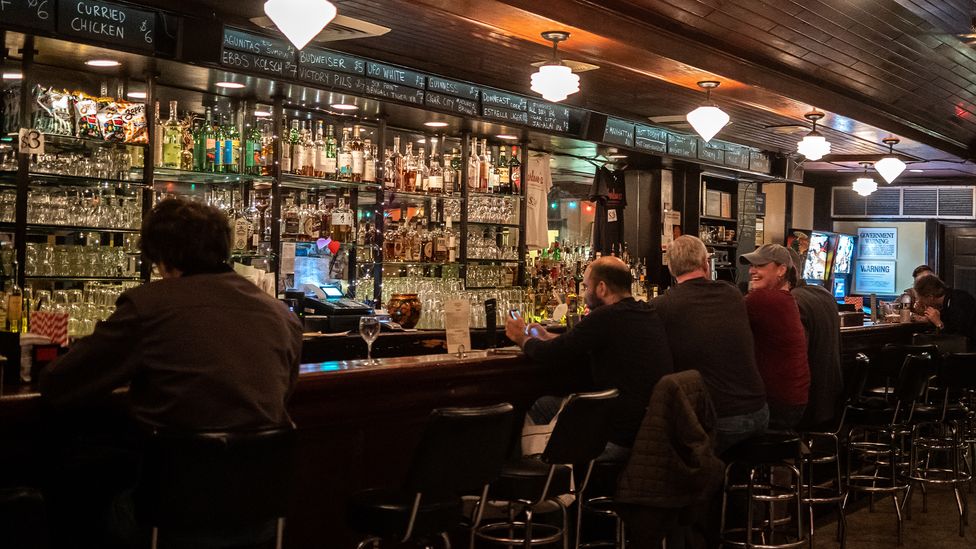 At Sharlene's, you can get a pint of Bud and a shot of whiskey for $10 (Credit: Sebastian Modak)
3. Sharlene's
Sharlene's is the kind of place that triggers a physical reaction from those in the know. "Sharlene's for a nightcap?" you suggest, with sparkle of excitement in your eye. For newcomers, the classic 1950s-style sign beckons from far down Flatbush Avenue in Brooklyn's Prospect Heights neighbourhood, and the dimly lit interior facilitates the kind of cosy vibes that swallow up entire nights. There's no television – a couple of pinball machines, a small board game collection and a stacked jukebox provide entertainment – and food is limited to a selection of Zapp's Potato Chips and other no-nonsense snacks. Compared to other dive bars in the area, the space is clean, well-appointed and there's a decent selection of craft beers on tap, but you can still get a pint of Budweiser and a shot of whiskey for $10. 
For many years, Sharlene's had the unfortunate reputation of being home to a team of invariably mean bartenders. That seems to have changed recently, with a brusque greeting of "What do you want?" now often replaced by the softer "What can I get you?" Besides welcoming a sizeable contingent of regulars, Sharlene's also has a reputation as a hangout for the New York media set, so be ready to overhear conversations about impending deadlines, overbearing editors and the latest round of layoffs.
Address: 353 Flatbush Avenue, Brooklyn
Phone: +1-718-618-0282
Instagram: @sharlenesbar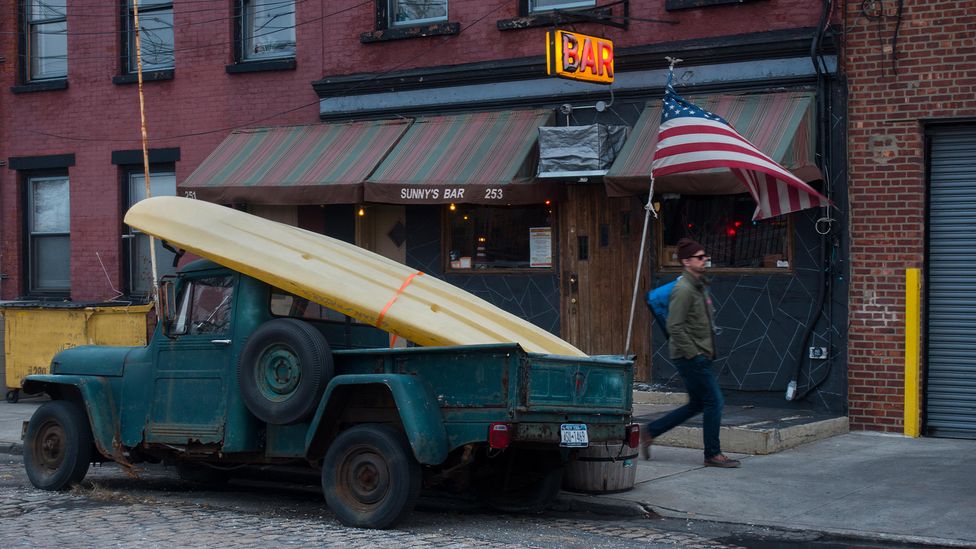 Sunny's has been a Red Hook institution since the 1890s (Credit: Randy Duchaine/Alamy)
4. Sunny's
It's pouring – the sort of mid-winter rain that soaks into your bones. You're sure you took a wrong turn as you trudge your way down an eerily quiet cobblestone street in the waterfront Brooklyn neighbourhood of Red Hook. And then you see it, lit-up like a lighthouse beacon: "BAR". You enter, take a seat, order a beer and listen to the live bluegrass jam (every Saturday) streaming in from the next room. A special kind of warmth sets in. Congratulations, you've found Sunny's. There's no real need to go to any other bar again.

Cash-only, kitchen-less, vaguely maritime themed and held dear by generations of Red Hook locals, Sunny's has benefited from its isolation: it's easier to get here by ferry than by subway. Thanks to its out-of-the-way location, the same spirit that made it a locals-only hangout for dock workers back in the 1890s remains at least partially intact. It's a place to celebrate big occasions, but also one that's perfect for a quiet evening with a book and a fairly priced dram of whiskey. You can chat with the friendly – but not overly eager — bartenders or not. There's an ethos to this bar that pervades every interaction you have: no one cares who you are as long as you are yourself. In the summer, the backyard becomes its own little paradise within a paradise.
Website: www.sunnysredhook.com
Address: 253 Conover St, Brooklyn
Phone: +1-718-625-8211
Instagram: @sunnysbarofficial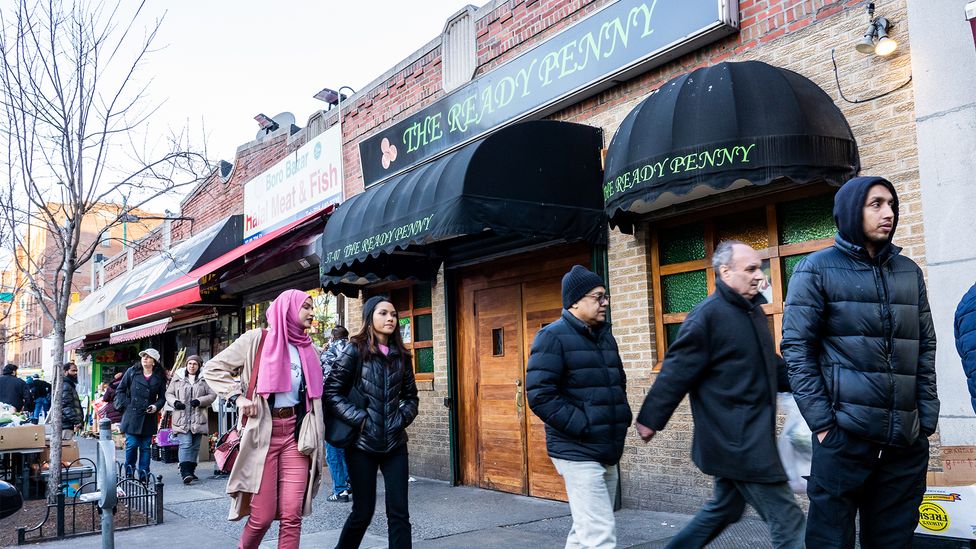 The Ready Penny Inn feels somewhat out of place in Jackson Heights, but somehow fits in perfectly (Credit: Sebastian Modak)
5. The Ready Penny Inn
Located right in between two South Asian halal supermarkets, The Ready Penny Inn feels improbable, but once you understand a little bit about the history and culture of Jackson Heights, it makes perfect sense.  Locals say at least 160 different languages are spoken in this Queens neighbourhood, a result of waves of immigration from all over the world. Here you'll find Tibetan food trucks, Colombian bakeries and Pakistani tailors. So, of course there would be a tried-and-true Irish pub, too. 
Step through the heavy wooden doors and you'll enter a well-lit space that's sparsely furnished but immaculately clean. A long bar and four booths. Two taps: Stella or Guinness (perfectly poured). A pool table. A dartboard. The bartender, invariably Irish, is friendly to newcomers and even friendlier to regulars. Stained glass windows ensure you're never certain whether it's light or dark outside and there is always a handful of those 160-plus languages being spoken at the bar. There's no food menu, but in a neighbourhood that's the gastronomic equivalent of the United Nations, why would there be? When a few rounds unlock the appetite, there are about 100 incredible restaurants steps away that deliver.
Website: https://ready-penny-inn.edan.io/
Address: 3707 73rd St, Jackson Heights
Phone: +1-718-899-7208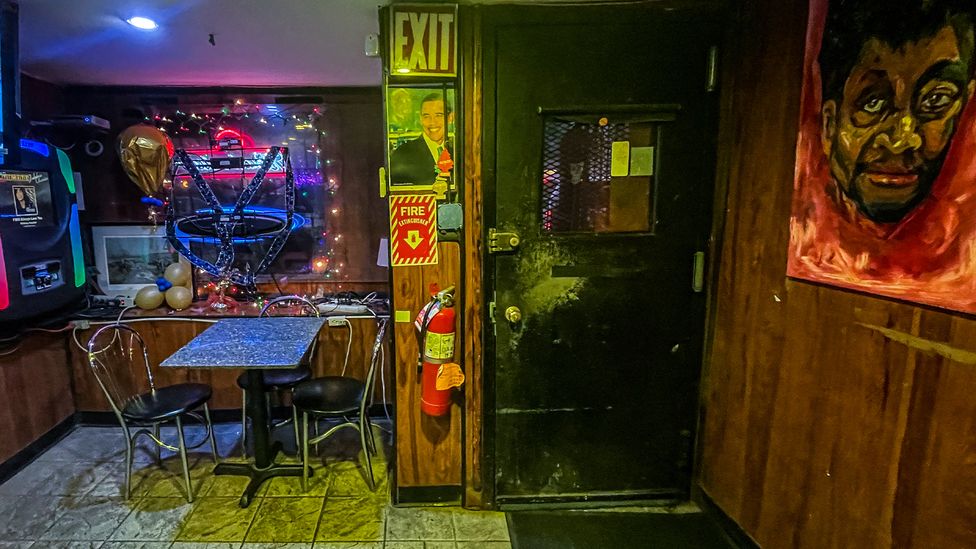 Tip-Top has been run by the same family since it opened nearly 50 years ago (Credit: Sebastian Modak)
6. Tip-Top Bar & Grill
The best dive bars are all about community. They don't have frills because they don't need them: it's more about who you're bound to meet at the bar than the bar itself. That's the case at Tip-Top Bar & Grill, which feels like someone's living room – because it basically is. Built into the garden level of a townhouse on the border between the Brooklyn neighbourhoods of Clinton Hill and Bedford-Stuyvesant, Tip-Top has been run by the same family since it first opened as an unregistered social club almost half a century ago. It was a couple of decades before it turned into a legitimate place of business, but it still has the feel of a home decked out to entertain the neighbours. 
In fact, don't be surprised if you stumble upon what appears to be a private event. Stick around though and you'll be welcomed like family. There are no beer taps (just an assortment of cans and bottles) but come on a weekend (it's only open Thursday through Sunday) and there might be homemade punch flowing at the bar and fish frying up in the tiny kitchen. Obama memorabilia covers the walls interspersed with family photos of the proprietor and, no matter the time of year, Christmas decorations. Like most ground-floor apartments in the area, the bar opens out to a backyard where mismatched, barely functioning furniture awaits those looking to watch a lazy summer afternoon disappear.
Facebook: www.facebook.com/tiptopbarandgrill/
Address: 432 Franklin Ave, Brooklyn
Phone: +1-718-857-9744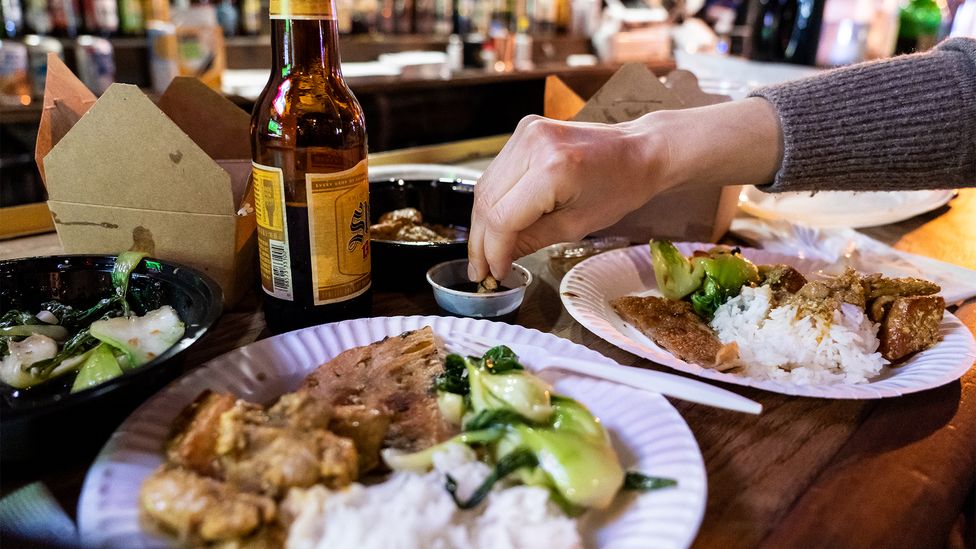 Fish Market is a South Street dive that happens to serve some of the city's best Southeast Asian food (Credit: Sebastian Modak)
7. Fish Market
The first step to experiencing the magic of Fish Market is figuring out how to get into Fish Market. Opening the cracked, handle-less door is a rite of passage, one so central to this establishment's mystique, I'd be remiss to spell it out for you here. You'll figure it out – and if you don't, a passing local may be kind enough to help. 
Hidden away on a stretch of Manhattan's rapidly developing South Street Seaport district, Fish Market is a dive bar, a sports bar and an excellent Malaysian restaurant rolled into one. Bar staff here (which often include the friendly owner, Jeff) are known to generously pour free shots of Jameson to customers, poured out of a giant bottle that has a permanent home on the bar. It means there's an exponential nature to the rowdiness quotient, with most nights turning into an all-out party by closing time. 
If, so far, this sounds like a fun, if unremarkable, drinking experience, allow me to introduce you to the kitchen. On one side of the printout that serves as the menu is standard pub grub, but the other is home to "Mama's Menu", an assortment of home-cooked Malaysian-Chinese fare masterminded by Jeff's mother. The bok choy, beef rendang and curried chicken rival some of the dishes served at the city's most highly regarded Southeast Asian restaurants, but you'd be slacking if you didn't also try the scallion pancakes, rendered even tastier after a few toasts of whiskey with everyone in the room.
Courtesy: BBC