Laura Hall
"The secret to a good fastelavnsboller," said Thomas Spelling, owner of neighbourhood bakery Rondo in Nørrebro, Copenhagen, "is that it has to be rich, beautiful to look at and ugly to eat."
His words rang in my ears as I bit into one of the soft, ganache-topped cakes later in the day, ending up with thick cream all over my hands, cheeks, and inexplicably, my leg and the floor. It certainly looked beautiful, rounded and with a dark glossy top, and it filled my mouth with an explosion of soft, yielding cake and rich, smooth and thick cream – but it was absolutely impossible to eat without making a mess.
Most seasons in Denmark have a cake or bread associated with them but no other season's cakes have as much hype around them as those produced for Fastelavn. This celebration, which takes place on the Sunday before the start of Lent, is akin to Carnival or Mardi Gras, and is celebrated by children who go trick-or-treating in fancy dress and bash a suspended barrel full of sweets, like a piñata, before eating a cream or jam-filled bun ahead of the coming fast.
This traditional celebration still takes place around the end of February every year, but the emphasis on its cake, the fastelavnsboller, has blown up in recent years. No longer available just on Fastelavn Sunday itself, it's now in bakery windows from mid-January with a six-week season that sees bakers across Copenhagen and Denmark's larger cities vie to create the most lavish and extraordinary pastries possible. The trend took off during Covid, when restaurants were closed and socialising in the queue for the local bakery became a form of entertainment; the cake has become a bakery showcase.
"A good fastelavnsboller has to have three things," said Talia Richard-Carvajal, creative director of Hart Bageri, a Copenhagen bakery that has garnered a top rating of six stars for its fastelavnsboller for the past two years in a row from Danish newspaper Politiken. "It's not just a cream bun. It has to have something white and sweet in it, then something dark, bitter or sour. And then it's about the texture of the bun. The balance of all the elements is important."
This year, Hart is selling three varieties – one of which is a yuzu and vanilla milk bun with a baked almond centre, mascarpone cream and a panettone topping – and anticipates selling around 40,000 fastelavnsboller during their six-week sales period. When I visited in late January, people were already queuing out of the door.
Hart Bageri sells different varieties of fastelavnsboller (Credit: Hart Bageri)
What makes this trend all the more interesting is a recent pronouncement from a local restaurateur that the city's gourmet bakeries are dead. Earlier in the year, Christian F Puglisi closed his highly regarded bakery Mirabelle, declaring the era of the gourmet bakery over. It is, he said, not profitable to have a medium-sized production when it comes to bread, citing difficulties in scaling up, staffing and the long hours and craft involved in creating artisan goods.
Critics have hit back, noting that plenty of gourmet bakeries in Copenhagen are thriving, Hart among them, and making big money is not the goal, as it is an artisan enterprise, not a factory. And, as Trine Hahnemann of bakery Hahnemann's Køkken sees it, it neglects the important role bakeries play in terms of producing sustainable food for a less meat-orientated future.
"To close down somewhere making healthy, well-made bread is crazy," she said. "It goes against everything we are trying to do right now. I want to bake 100% organic cakes and bread in a local destination where people live. We need quality food where people live."
To those on the streets of Copenhagen this February, the fastelavnsboller scene looks far from dead and buried; in fact, it's still rising. Cakes are selling for as much as 75 kr (£8.90) in the upmarket pâtisserie salon at Maison D'Angleterre, and around 45-65 kr (£5.30-£7.70) elsewhere; bakeries report selling out day after day even at the start of the season. One reason for the cake's continuing success might just be that at this time of year, Danes are looking for a slice of something fun to balance out the long, cold winter. As Hahnemann puts it, "We need cakes and there needs to be joy!"
Over at Meyers Bageri, a stalwart of the Danish food scene, the turnover of fastelavnsboller is equally high, but their eyes are on the future.
"Cakes are bound to religion and tradition," said Nina Aastrup, Meyer's head of pastry, "But we're making some changes to acknowledge the diversity in Denmark this year, and later this year, we'll be selling a Ramadam Swiss roll. We want to make it a new tradition."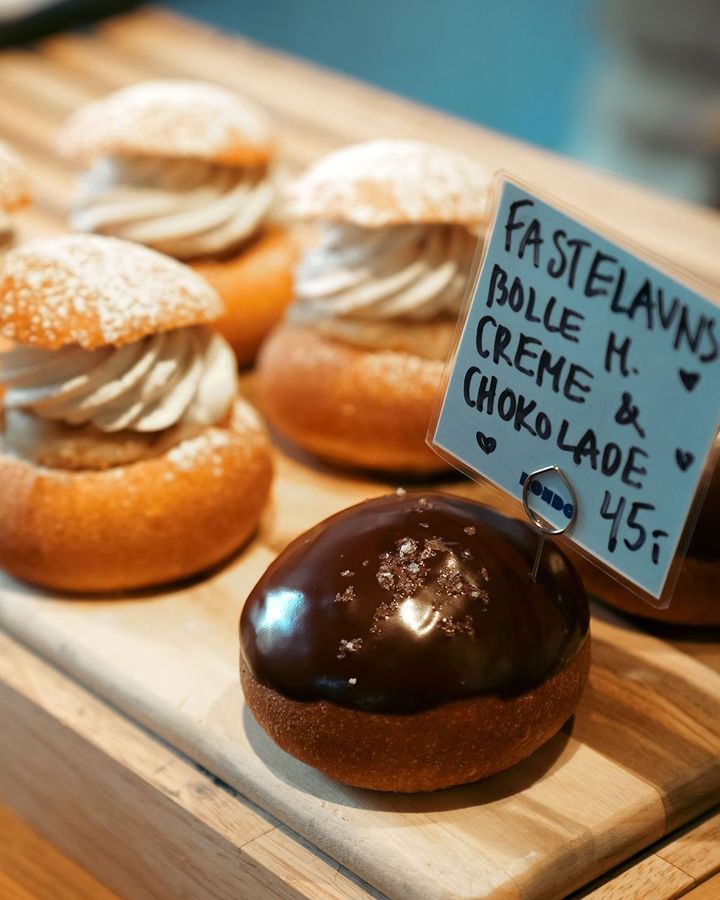 Rondo in Nørrebro sells traditional fastelavnsboller topped with chocolate and salt (Credit: Daniel Rasmussen)
Traditional Fastelavnsboller recipe
By Rondo
Up-and-coming local bakery Rondo opened in mid-2022 and is fast becoming a star of the local bakery scene in Nørrebro, this year selling traditional fastelavnsboller topped with chocolate and salt from the Danish island of Læsø, as well as Semla, Swedish cream buns flavoured with cardamom.
The unique combination of flavours and textures in their fastelavnsboller recipe make it a stand-out among other traditional buns. Keep in mind that dough hydration, temperature and the use of yeast may vary, so you may need to adjust the recipe accordingly.
Method
Step 1
Mix the dough ingredients in a stand mixer and then let it rest and rise for 2-3 hours.
Step 2
Shape the dough into 60g balls and let them rise again for 2-3 hours.
Step 3
Bake at 180C for 9-10 minutes.
Step 4
Make the filling by whipping the double cream and folding it into the pastry cream.
Step 5
Pipe the mixture into the cooled buns to create a creamy centre.
Step 6
The final touch for the buns is a rich chocolate ganache made by mixing the melted chocolate with cream. Pour over the top of the bun.
Courtesy: bbc