Monitoring Desk
These would enable the agency to retain the "necessary degree of monitoring and verification work", IAEA chief Rafael Grossi said, without going into detail.
The move comes ahead of a deadline set by Iran to stop intrusive checks of sites unless US sanctions are lifted.
Tensions have soared since the US left a nuclear deal with Iran in 2018.
Then-President Donald Trump reimposed crippling economic sanctions to force Iran to renegotiate the accord. Iran refused and retaliated by rolling back a number of key commitments.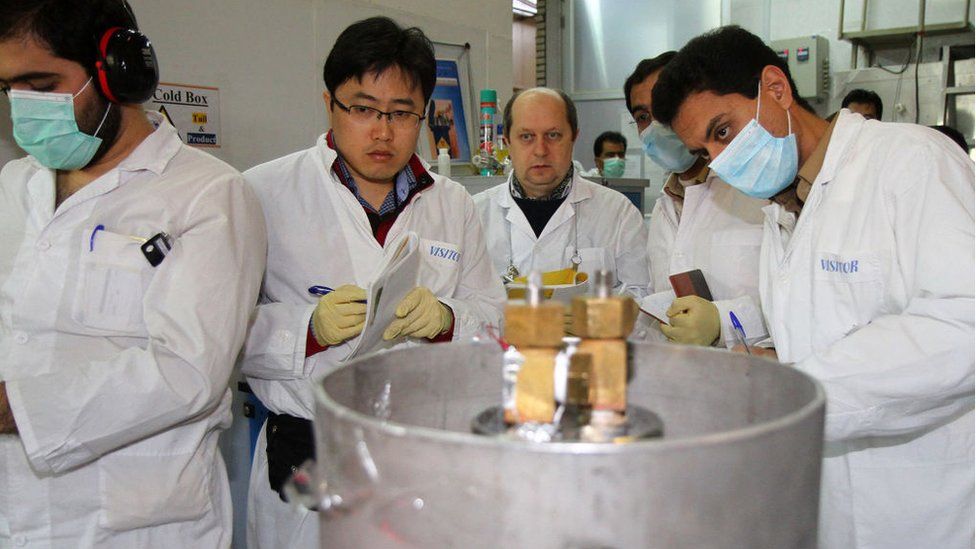 The crisis over Iran's nuclear programme has been on the international agenda for almost 20 years. Iran says the programme is for peaceful purposes, while the US and others suspect Iran has ambitions to develop nuclear weapons.
Iran nuclear crisis: The basics
Iran has nuclear power: But some countries have long suspected that it also has secret ambitions to build a nuclear bomb – Iran denies this.
So a deal was struck: In 2015 a major agreement between Iran and six other countries meant Iran accepted limits on its nuclear activities in return for an end to harsh penalties, or sanctions, that hurt its economy.
What is the problem now? Iran restarted banned nuclear activities after former US President Donald Trump pulled out of the deal and restored sanctions. Even though President Joe Biden wants to rejoin, both sides say the other must be the first to change course.
Has the crisis now eased?
The "temporary technical" arrangement reached between Iran and the International Atomic Energy Agency (IAEA) "salvages the situation", Mr Grossi told reporters on Sunday after a visit to Iran.
"We were able to retain the necessary degree of monitoring and verification work," he said, without elaborating, but added: "There is less access [to Iranian sites], let's face it."
Under the plan, for the next three months Iran would hold recordings from monitoring equipment installed at sites by the IAEA but would not release the information unless sanctions were lifted within that timeframe, the Atomic Energy Organisation of Iran (AEOI) said. If sanctions remained, the data would be erased, it added.
Cameras and other apparatus have been put in place by the IAEA to help verify that Iran does not carry out nuclear activities prohibited under the deal.
However, Iran and the US are at loggerheads over the removal of sanctions. Washington insists Tehran must return to full compliance with the 2015 deal first, while Tehran says that will only happen once sanctions are lifted.
'This deal buys some precious time'
Analysis by Paul Adams, BBC Diplomatic correspondent
The IAEA's boss, Rafael Grossi, called this "a good result".
It certainly seems likely to defuse a mounting sense of crisis surrounding Iran's nuclear activities and efforts to breathe new life into the 2015 nuclear deal, known as the Joint Comprehensive Plan of Action, or JCPOA.
Crucially, it significantly reduces the impact of a new Iranian law, due to come into effect on Tuesday, which would have seriously hampered the IAEA's ability to do its work.
Iran will still suspend implementation of the so-called Additional Protocol, which gives the IAEA substantially enhanced tools with which to carry out inspections.
But Mr Grossi clearly believes the "temporary bilateral technical understanding" reached after talks in Tehran this weekend will allow his inspectors to continue doing their job to a satisfactory degree.
The deal will have its sceptics, particularly among those for whom the JCPOA was always a mistake, and who also believe it's pointless, or even dangerous, to try and rescue it.
But coming at a time when the Biden administration has indicated its willingness to return to the negotiating table, this deal buys some precious time.
Why is this happening now?
A law is due to come into force on Tuesday in Iran requiring the government to stop allowing the inspection at short-notice of declared or undeclared nuclear sites by IAEA experts.
Iran had agreed to allow the resumption of snap inspections – a voluntary measure – under the 2015 deal, having previously suspended them in 2006.
Less intrusive routine inspections of declared nuclear sites will continue – and Iran has said the new law will not lead to the expulsion of inspectors.
However, the abandonment by Iran of another commitment will heighten international alarm.https://emp.bbc.com/emp/SMPj/2.39.19/iframe.htmlmedia captionIran's nuclear programme: What's been happening at its key nuclear sites?
In the short term, Iran wants to put further pressure on the US and other parties to the JCPOA – France, Germany, the UK, Russia and China – to get Washington to lift sanctions on Iran's oil, banking and financial sectors.
Iran has increasingly stopped complying with its obligations under the 2015 deal since the US withdrew, deepening concern among the remaining members that its resumption of banned activities could ease the path towards a bomb.
Last month, US Secretary of State Anthony Blinken said he believed it would currently take Iran "a few months" to produce enough fissile material for a nuclear weapon if it chose to do so. But he warned that it "could get down to a matter of weeks" if Iran continued to lift some of the restraints imposed by the deal.
Recent Israeli assessments suggest it would take Iran about two years to develop a deliverable device.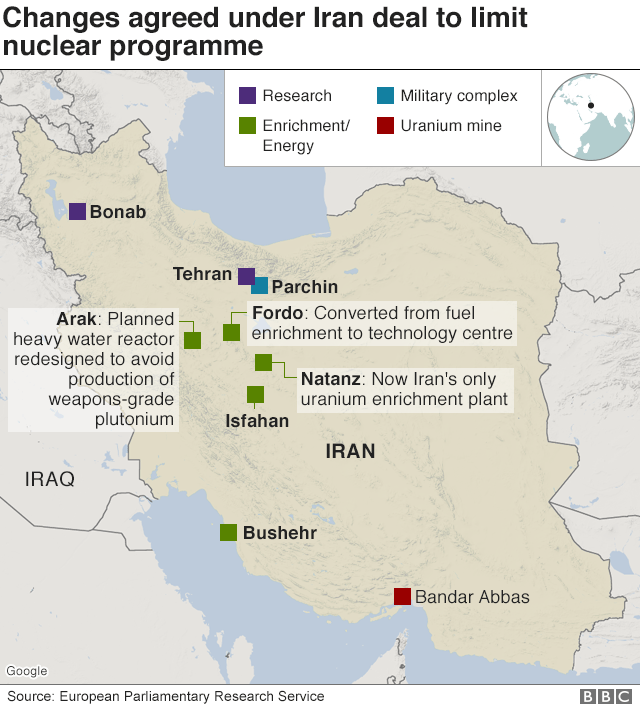 Courtesy: BBC