Monitoring Desk
t was the slow lengthening of the boat pier that Solmaz Daryani remembers as the most obvious sign that something was amiss.
Until the late 1990s, her family's hotel stood steps away from Lake Urmia's northern shoreline. Bit by bit, though, the waters began to retreat. At first, her uncle extended the pier 100 metres (330ft) out to facilitate guests' access to his boats. The next year, he built it out twice as far. Eventually, with the lake retreating at record speed, he had to admit defeat.
"At some point he just had to stop extending it. The lake was moving 500 metres [1,640ft] a year," says Daryani, a photographer who has spent much of the past few years documenting what has become of the lake. "Ultimately, people would have had to walk right to the middle."
As the lake shrank, the land became less accommodating. The vegetation died off, and the bustling lakeside resorts turned to ghost towns. It wasn't long before Daryani came to the same crushing recognition as many of the local residents. "We realised it was going to disappear. It was shrinking to nothing."
Watching your home environment waste away is heart-wrenching for any community. Watching the collapse of a regional economy that supports five million people is a national disaster.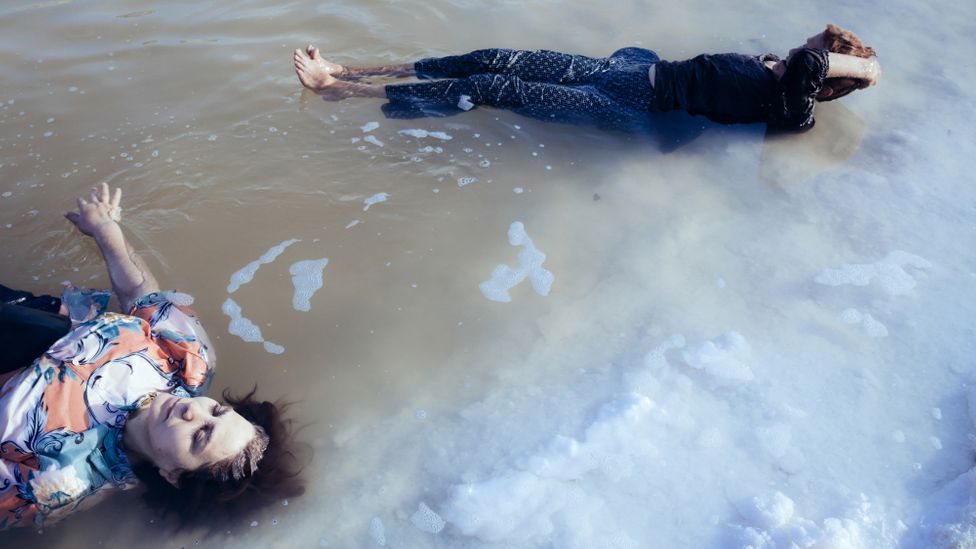 Women bathe in a remant of the lake in 2014, in a remote region of Lake Urmia that now receives few visitors (Credit: Solmaz Daryani)
In some ways, this is a grimly familiar tale. After decades of relentless development, in which environmental concerns seldom registered, Urmia's fate can quite closely resemble that of the Aral Sea, of Bolivia's Lake Poopo, or an array of other once impressive, now much-reduced bodies of water.
"It's kind of simple. The water withdrawal for human use increased tremendously at the same time as there was an extended drought," says Ali Mirchi, an assistant professor in the department of biosystems and agricultural engineering at Oklahoma State University, who has intensively studied the lake. "That served as the straw that broke the camel's back."
In other ways, this is a uniquely Iranian story. Urmia's destruction has unraveled against a backdrop of war, sanctions and no-holds-barred domestic politics. It has all culminated in a situation where even the bid to revive the lake has become intensely politicised.
But Urmia's story is different too because, against these odds, the lake is once again beginning to show signs of life.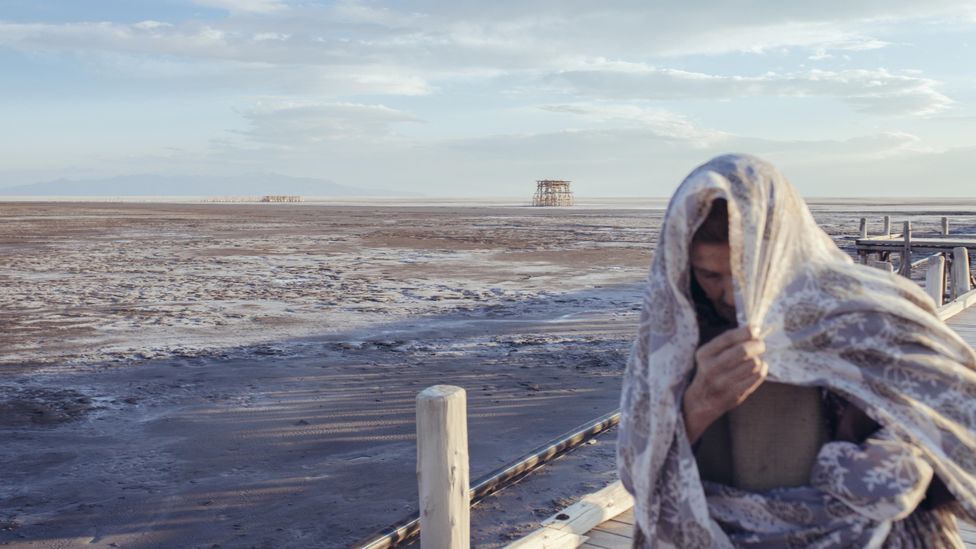 The shifting edge of the lake can be appreciated using benchmarks like piers and old boats that remain where they were once used (Credit: Solmaz Daryani)
Lake Urmia is Iran's largest wetland and was once one of the biggest saltwater lakes in the world. Until recently, it was also Iran's principal domestic tourism destination. For decades, Tehranis would drive the 10 hours or so from the capital to the country's far north-west.
Now, the former shoreline is littered with crumbling hotels and beached boats, many of which rise disconcertingly from the desert, with not a drop of water in sight. The very same lack of water that's starved the lake is now savaging the huge tracts of farmland that depend on its feeder rivers. Among the salt flats and through previously lush parts of the basin, there are abandoned orchards, abandoned fields, and abandoned houses, many of whose owners have sought new fortunes elsewhere.
From a high of more than 5,000 square kilometres (1,930 sq miles) Urmia shrank to about a tenth of that area in 2014-2015, and as little as 5% of its historic volume. Much of the lake is now consumed by sickly-looking red algae that has run riot as the water has vanished and the salt content has soared. Most jarring of all, perhaps, is the health fallout. With the expanse of exposed salt crust, fierce winds whip the hypersaline lake floor into dust storms, which can affect respiratory health.
How, in a matter of years, did this lake go from a tourist haven to a barren health risk?
Anatomy of a collapse
Urmia's drying was a long time in the making. Following the 1979 revolution, which overthrew the monarchy, Iran adopted a policy of food self-sufficiency, in part to shield its new Islamist authorities from international pressure. Out went many of the lakeside vineyards, some of which were uprooted for religious reasons. In came thirstier produce, such as apples and sugar beet.
New irrigation schemes were rolled out to cultivate crop staples, and massive new dams were strung across almost every lake tributary. All told, there are now roughly 40 operational dams in the Urmia basin – an area the size of Slovakia – with many more under consideration.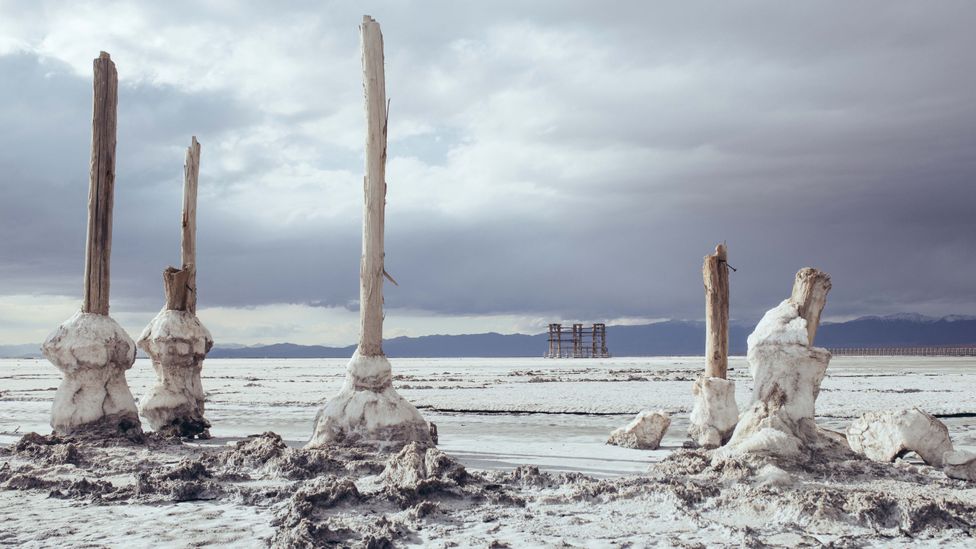 A key way of restoring the lake is shifting away from the water-intensive agriculture that drained the lake in the first place (Credit: Solmaz Daryani)
The country's population surged, partly as a result of pro-natalist policies. The state began a drive to create new jobs. Agriculture seemed like a natural fit for many. Since the 1980s, the area of agricultural land around Urmia has expanded fourfold, while regional villages and cities have swollen.
Poolad Karimi, a former associate professor of water and agriculture at IHE Delft in the Netherlands, grew up spending summers around the lake. But when he recently returned after a 15-year absence he found that his family's hometown had grown almost beyond recognition.
"My aunt had an orchard, and we used to have to walk through other orchards for 30 minutes to get there," he remembers. "Then, when I went back, the orchard was in the middle of the city, while there were huge areas of farmland that were never there before."
Through a brutal eight-year war with Iraq in the 1980s, and continuing tensions with the West, the environment became such a low priority that authorities even considered shutting down the department of environment, according to Iranian conservationists.
For a while, until about 1995, the lake appeared to be just about holding its own despite low rainfall since the 1970s. But then, with demand for water continuing to surge, the drought intensified. Things began to deteriorate quite quickly from there, as Nasa imagery shows.
Urgently needing to irrigate their crops, farmers resorted to pumping more groundwater to make up for the lack of rain – thereby depleting the lake even more and exposing its salty bed. In a vicious feedback loop, the expansion of agriculture into marginal desert land added to the sand storms, which ditch their salt-laden dust back onto farmland, cutting yields.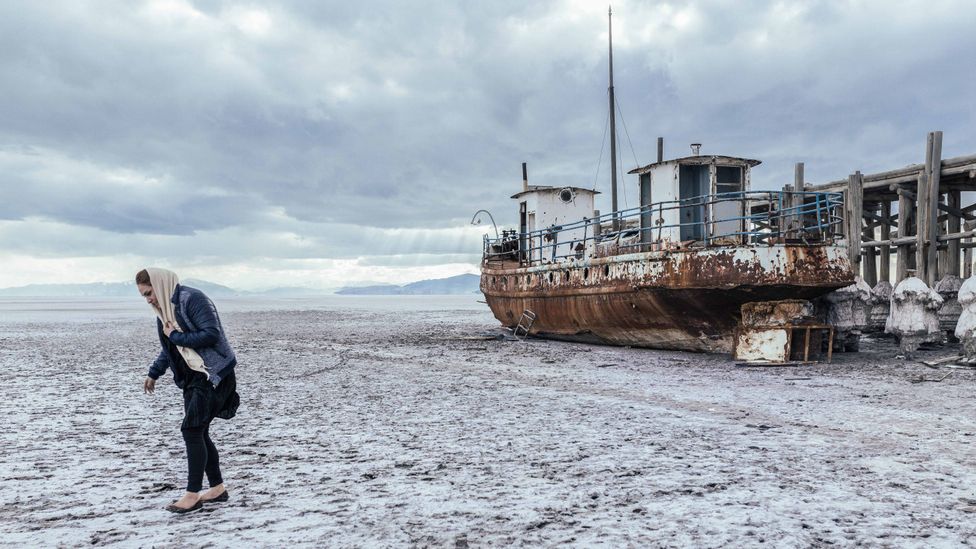 The dry bed of the lake is a source of salty dust that can be whipped up by strong winds into a dust storm (Credit: Solmaz Daryani)
Lake Urmia's tourism industry collapsed, accelerated by that deteriorating air quality. Who, after all, wants to holiday with no lake and foul air? In 2008, Solmaz Daryani's family shut down their guesthouse, which at that point was hosting no one beyond her grandfather's friends. The town's 40 other hotels soon closed their doors as well.
Protesters took to the streets around the lake in 2011, chanting "Urmia is dying" and that the parliament had "ordered its execution". Security services arrested scores of them in a grim foretaste of the difficulties to come for environmentalists.
The return of water
Yet, with lake reduced to a sorry remnant, it finally caught something of a break in 2013. Intent on resolving what some saw as a national embarrassment – or keen to win votes, depending on who you talk to – Hassan Rouhani pledged to restore the lake during his run for the presidency. After his victory, the restoration got going.
Much of the plan has centred on reforming local agriculture, which consumes about 85% of Urmia's water, according to the UNDP. By weaning farmers off the thirstiest produce, such as watermelons, officials hope to reduce usage without denting Iran's food security. And by reworking irrigation practices – notably by watering at night when the water has more chance to sink into the ground – they envisage both healthier and less thirsty crops.
Early results back that up. Around 2000, Mehdi Mirzaie, a former water expert on the government's Planning and Budget Organisation, co-led a Dutch pilot project that he says delivered a 50% increase in production for villagers while using 30% less water, simply by altering their growing patterns. "It's about changing the culture of the people," he says. "If we can change that, it doesn't matter what the attitude of the government is."
Convincing farmers of the merits of these reforms is crucial to the lake's future, and a priority for those spearheading the restoration. "If you give people the wrong impression, they will feel that that their lives are in competition with the restoration of the lake," says Mohsen Soleymani Roozbahani, a former senior environment official and now an analyst at the UN Development Programme, which is providing technical support to the government's restoration effort. "It's a matter of trust-building." By taking this approach, Roozbahani and his colleagues are confident that they can meet their target of a 40% drop in water consumption.
The department of environment, one of several Iranian government bodies involved in the lake restoration, did not respond to requests for comment.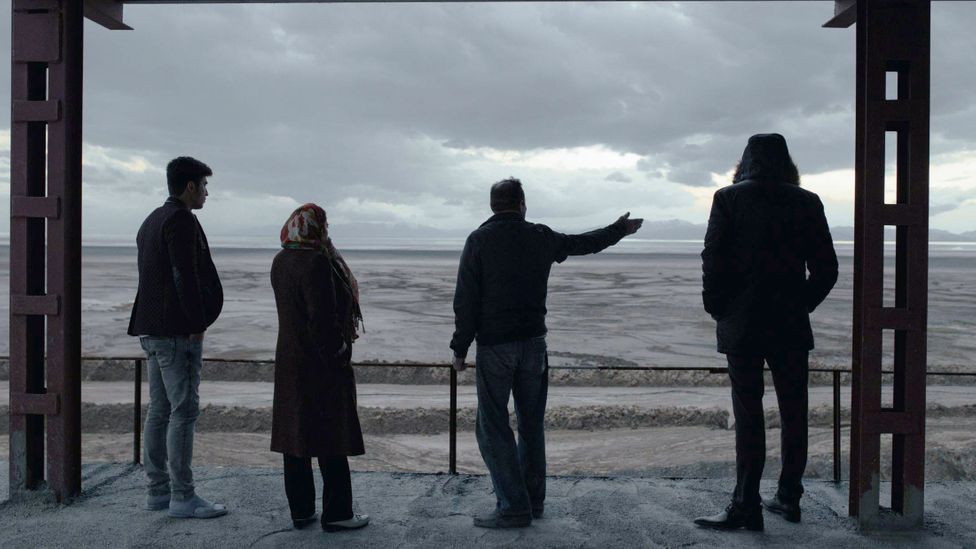 After a period of rains, a hotel proprietor shows his guests how much closer the lake has come to his establishment (Credit: Solmaz Daryani)
But alongside the focus on sustainable agriculture, there are other interventions that have raised hackles. Construction workers have mostly finished digging a 35km-long (22 miles) tunnel that will transfer water from the neighboring Little Zab basin to the lake, among other engineering schemes, such as upgraded wastewater facilities.
IHE Delft's Karimi questions whether this strategy will tackle the water-scarcity problem it at its root. "If you go after things that are investment-oriented, you don't have to work with the communities. You don't have to change behaviour," he says. "But that's not going to work. Demand will just increase to meet supply." He and other scientists fear a repeat of some of the unsustainable mistakes that contributed to the lake's troubles in the first place.
Those in the areas where the water will be piped from are furious, too. Campaigners say that Iranian authorities are simply imposing Urmia's problems on others, thrusting additional water poverty onto Iraq, which is already reeling from severe shortages of its own. They are concerned that the water scarcity will be pushed into Kurdish-majority parts of Iran that lack the political support to push back. Conversely, the Iranian Azerbaijan provinces where the lake is located, are among the most politically influential parts of the country.
Hope for nature?
These days, the lake has swollen to 2,800 sq km (1,080 sq miles), about half its historic size. But how much of this is due to the restoration programme and how much is due to heavy rainfall.
There's no guarantee either that the sandstorms will dissipate or weaken any time soon, no matter how successful Urmia's revival might be. As desertification wreaks havoc, Iran is suffering from swirling walls of dust that germinate well beyond its own borders.
More complicated yet is the political environment in which the lake is being restored. This year is a presidential election year, and the lake restoration has taken on a somewhat partisan complexion. "Hardliners definitely see this issue of environment and the restoration of the lake as a success story of the Rouhani camp," says Negar Mortazavi, a journalist and political analyst based in Washington. "And they obviously see it as a point of competition that they don't want to champion and they don't want their media to champion it."
It is in this context that the lake has reached a crucial juncture. The lake is currently 3m (10ft) below its target water level. "So there's quite a ways to go," says Ali Mirchi. "If they follow everything they said in the lake restoration program, and if the conditions are favourable, it's theoretically possible to get to the designated ecological level in a three-year timeframe. But if we hit 'normal' conditions, it could take as long as 16 years."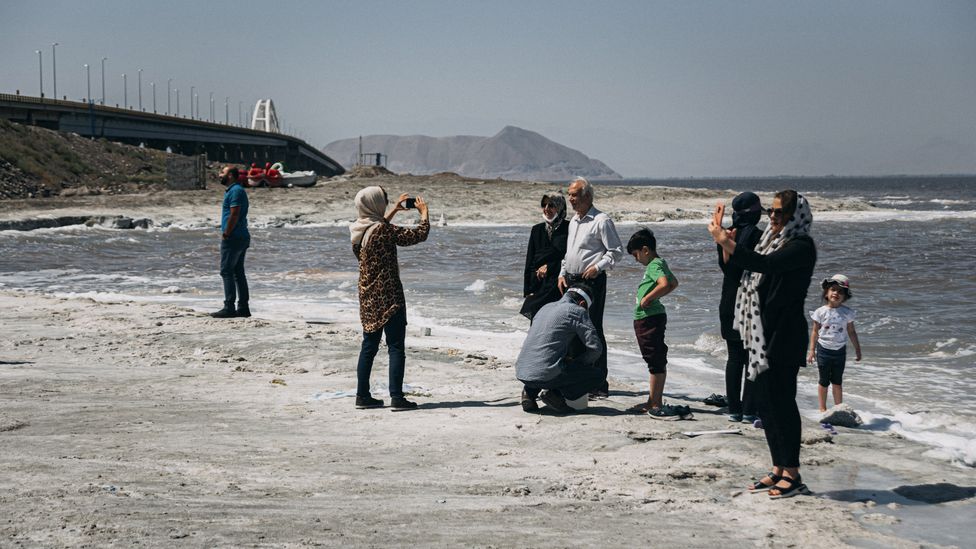 By late 2020, the lake had been significantly restored and tourists welcomed the return of the waters (Credit: Getty Images)
Even as the lake ebbs forward, the scale of the task ahead shows no signs of diminishing. Besides the difficulty of changing entrenched agricultural practices, and the question of whether large infrastructure projects will be a help or hindrance, there is the added pressure of climate change. For Iran, that is predicted to mean more drought, more flooding and more intense heat ahead.
Still, there's some evidence that Urmia's plight might have helped trigger something of an environmental awakening. Having seen firsthand the dangers of allowing natural landscapes to wither, many Iranians are more mindful of green issues. With a little patience and continuing support, those involved in the restoration effort are confident it will be a success.
"Restoring the lake is a process. You can't just click your fingers," says Mohsen Soleymani Roozbahani. "The Lake Urmia situation is a result of at least 20-25 years of unsustainable development in the basin."
For their part, Urmia locals are cautiously optimistic. The water is now nearing a century-old ship repair dock that many locals on the lake's north-eastern edge have used as a reference point. With more lake than at any point in almost two decades, excitement is starting to mount.
"Now even my uncle says: water is getting closer," Solmaz Daryani says. "People see things happening. They think, maybe there is some hope now."
Courtesy: BBC